Ah! Sweet home Alabama. The Heart of Dixie. The house of Longleaf. The Yellowhammer State. Yet with so many gorgeous sights to see, Alabama rarely graces the covers of travel and road-trip magazines. (Perhaps families don't know about the brilliant beaches, cavernous caverns, and miles-long stretches of hiking trails?)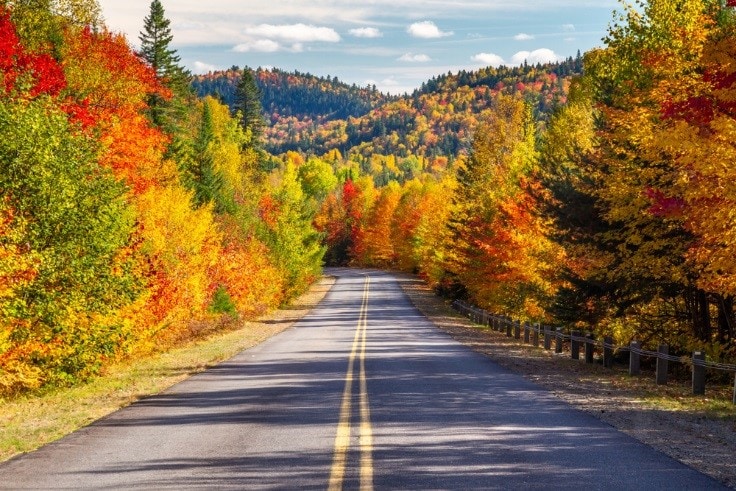 Let's aim to fix that. As you start planning your family's fall break, consider loading up your Jeep Grand Cherokee for a scenic autumn road trip through Alabama. Check out these 11 scene-stealing destinations for inspiration, and get to travelin'!
You're off to great places! You're off and away!

Dr. Seuss
11. Noccalula Falls
Overlooking Gadsden's Black Creek ravine, Noccalula Falls is paradise exemplified. It features one of the state's premier campgrounds, located right within the 250-acre Noccalula Falls Park, providing visitors easy access to nature trails, rock and botanical gardens, a petting zoo, mini-golf, and the spellbinding Noccalula Falls waterfall. Take a guided walking tour through the trails during autumn to make the most of your trip.
10. University of Alabama Campus
Located in Tuscaloosa, AL, just a short drive from our Birmingham Jeep dealership, The University of Alabama and its three-square-mile campus are stunning sights to see during any season. Rated one of the most beautiful college campuses in the country, UA is home to the Alabama Museum of Natural History, the Civil War-era Gorgas House, and Bryant-Denny Stadium. So, plan to tailgate at a Crimson Tide football game by packing your Jeep Wrangler with all the essentials.
9. Natchez Trace Parkway
A road trip on the Natchez Trace Parkway is the ideal family vacation. Start in Cherokee, AL, and head north over the Tennessee River and toward Nashville, TN. On the way, take scenic breaks at Birdsong Hollow's double-arch bridge (milepost 438), Water Valley Overlook (milepost 411), and Baker Bluff (milepost 405). Or rest at a nearby campground or hotel and take a morning hike in Jackson Falls (milepost 404) and around Fall Hollow Waterfall (milepost 391). Your weekend is planned.
8. Rickwood Caverns State Park
To truly experience Alabama during the fall, take a road trip to Rockwood Caverns in Warrior, AL. You'll find no better destination in the state if fall sightseeing is on your itinerary. This state park is awash with prehistoric limestone cliffs that are as tall as the day is long. A trek through the gorges and around the formations is a must-do activity; the temperature around this area stays below 65 degrees all year long, so wear something warm. When you're done, mine gemstones, hike, take a dip in the park's pool, go fishing, or simply relax around the campfire. Alabama weekend trips were made for this.
7. Childersburg's Kymulga Grist Mill
Perhaps the most tranquil little town in Alabama, Childersburg hosts one of the state's oldest national landmarks: Kymulga Grist Mill and Covered Bridge. Walk alongside the trickling Talladega Creek and through the Covered Bridge, then tour the Mill grounds. Visit in September to enjoy the annual Coosa Fest! And don't forget to "drive" on Gravity Hill.
6. Barbour County Governors' Trail
Beginning in Clio and ending in Eufaula, AL, the Barbour County Governors' Trail is a 38-mile marvel that encompasses all of Alabama's storied past. Tour historic landmarks, rural farmlands, stunning plantation homes, and the protected woodlands at Blue Springs State Park. You can take a fall road trip through Barbour County in a day, leaving you enough time to grab a bite to eat at one of the area's famous dining spots.
5. Lake Martin
More than 44,000 acres. Nearly 800 miles of coastline. Endless fun for families. Lake Martin reservoir is one of the state's most popular summer destinations, but there's something magical about the region when the leaves begin to turn. Head to Kowaliga Bridge or Chimney Rock to snap some photos for your IG feed – or, if you're wild, pop on that swimsuit, climb the 60-foot-tall Chimney Rock formation, and take a leap of faith right into the lake. (Just pre-heat the inside of your SUV.)
4. Talladega Scenic Drive
Need an afternoon retreat? Plan a mini-road trip: The Talladega Scenic Drive. This 27-mile drive on the National Scenic Byway offers great views of the Appalachian Mountains, rural towns, and all the lakes, rivers, and canyons that make up the Talladega National Forest. It's also the route you'll take to get to Cheaha State Park (#3 on our list).
3. Cheaha State Park
Located at the top of Cheaha Mountain, Cheaha State Park is nearly 2,500 feet above sea level and offers visitors a mesmerizing viewing spot to watch the sunset. And with 2,800 acres of Talladega National Forest to traverse, the area never ceases to amaze. Bring a well-stocked pack, an extra water bottle, and some quality hiking boots – you'll need 'em.
2. Alabama Coastal Connection Scenic Byway
You can't go wrong with an autumn road trip on Alabama's Coastal Connection Byway. Along the way, you'll get to dig your toes into sand, snack on authentic Southern cuisine and seafood, and take in historic landmarks. The areas along the byway are even hosting special fall 2019 events, including:
16th Annual John L. Borom Alabama Coastal BirdFest – Oct. 2-5, 2019
48th Annual National Shrimp Fest – Oct. 10-13, 2019
The Original German Sausage Festival – Oct. 26, 2019
7th Annual Fairhope Film Festival – Nov. 14-17, 2019
For more event information, visit alabamascoastalconnection.com
1. Perry Lakes
Perry Lakes Park, the hidden, 600-acre gem buried away in Perry County, Alabama, is absolutely amazing to see in the fall. American Beech trees change colors early, creating a striking, swampy backdrop of which even Monet would be envious. Bird-watching is a common activity here, as is hiking, of course; we recommend parking and walking the trails right at sunup to witness the wide array of wildlife in their normal morning routine.
Before You Travel: Get An Oil Change!
We know: You can't wait to get on the road. But before you even throw those bags in the back of your Jeep Cherokee, be sure to visit your nearest Alabama auto service center for an autumn oil change—unless, of course, you want to get stranded on a picture-perfect byway. (We wouldn't blame you.)
If you're in central Alabama, let Jim Burke Automotive perform your road-trip maintenance. Schedule an oil change in Birmingham or simply swing by our shop for first-come, first-serve service. We're located at 445 13th Street N in Birmingham, AL. And if you need a new SUV for your journey, we've got great deals on new Jeep models available.
Enjoy your trip through Alabama, lucky traveler!
---
Sources:
ua.edu/visitors
noccalulafallspark.com/
roadsideamerica.com/tip/3300
kymulgagristmill.com/
alapark.com/parks/
lakemartin.com/
perrylakes.org/
natcheztracetravel.com/
alabamascoastalconnection.com/
fhwa.dot.gov/byways/byways/2057
scenicbyways.info/byway/2558.html