Did you know that August is National Eye Exam Month? These unofficial U.S. "holiday observances" are typically too silly to even mention – we're looking at you, National Macadamia Nut Month – but August's is quite the opposite, particularly when it comes to drivers and general road safety.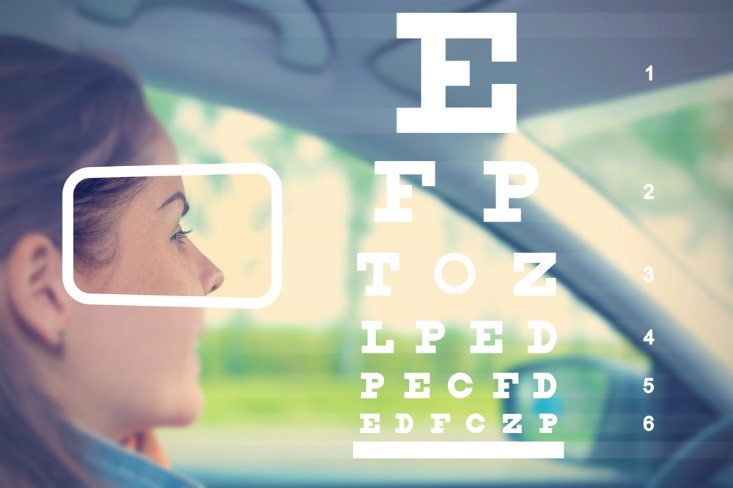 Look, it's not rocket science: good eyesight is essential when you're driving. You rely on those peepers more than any of your other senses. Over 150 million adults in America wear eyeglasses or contact lenses to correct their vision. Yet there are some strays – about 13 million, to be exact – who refuse to wear corrective eyewear or even have their vision tested. To those people, we hope you never get behind the wheel. To the other 150 million potential drivers, here are a few tips to ensure your bad vision doesn't get the best of you.
1. Get a Routine Eye Exam
First and foremost, build a relationship with your eye doctor. You can do this the old-fashioned way: eye exams.
But how often should you have your eyes examined by a doctor? Ophthalmologists recommend that anyone over the age of 40 years get their eyes checked every 2 to 4 years. Those over the age of 65 years should receive an annual eye exam. If you already have contacts, glasses, or LASIK-corrected vision, yearly vision checks should be performed to monitor changes in your prescription.
However, if you notice your vision getting worse or any of these other problems when driving, you should make an appointment with your eye doctor as soon as possible:
Blurriness
Increased sensitivity to light
Halos of light or glare (poor night vision)
Floaters or "curtains" in your peripheral vision
Dark spots in your central vision
Difficulty reading signs from 25 yards or closer
Chronic dry-eye or eye strain
Sudden nearsightedness or farsightedness
Poor depth perception
Please note that we aren't doctors (unless you consider our auto repair technicians as doctors for vehicles), so take our eyecare advice with a heavy grain of salt.
2. Clean the Inside of Your Windshield
Streaks on a windshield are not only ugly, but they're also distractions. (And who needs an added distraction when already struggling with poor vision?)
Use a microfiber cloth and some cleaning spray that rhymes with "Binbex" to say good-bye to those smudges. While you're at it, consider detailing the whole interior of your vehicle. Why not?
3. Wear Anti-Glare or Polarized Lenses
Eyeglasses can be fitted with no-glare lenses to help reduce light from entering the eye. If you have poor night vision, whether it's caused by astigmatism, cataracts, or some jackhole's illegally bright headlights, these types of glasses are excellent choices.
Progressive glasses are also an option; the lenses in these glasses are specially constructed to limit pupil dilation when driving at night.
4. Exercise Your Eyes
Like any muscle, your eyes need a good workout every now and then. Eye exercises can help with common issues like eyestrain, dry-eyes, blurry vision, and even ocular migraines.
But there aren't any dumbbells for your eyes, so you need to get a little creative with how you get your eyes swole. Here are a few exercises you can try.
5. Warm Compresses for Dry Eyes
You might know that eyes have glands – called "Meibomian glands" – which secrete oil to aid in tear production. But were you aware that those glands can easily become clogged?
Meibomian gland dysfunction is quite common in our digital world and is a major cause of dry-eye in America. Many ophthalmologists suggest, in addition to taking omega-3 fatty acid supplements, using hot compresses regularly to help those glands keep the secretions flowing. Lovely.
6. Take Your Time
Unless you're an Earnhardt on a closed course, driving is not a race. Reduce your speed at night and take extra time to check your surroundings, particularly at traffic lights, intersections, stop signs, and when approaching busy crosswalks. And if you need to take a break to rest your eyes, do what you need to do – no one's tracking your timesheet.
7. Invest in a Car with New Safety Features
We can't all have perfect 20/20 vision. Thankfully, today's vehicles have driver-assist features that somewhat make up for eyesight deficiencies, such as the following:
Parksense® Rear Park Assist System – The Parksense system, available on models like the Chrysler Pacifica, Jeep Wrangler, and Grand Cherokee, uses sonar sensors to detect obstacles behind you. When reversing into or out of a parking spot, the system will send an audible alert if you're in danger of hitting an object.
Blind Spot Monitoring – Available on most vehicles, Blind Spot Monitoring keeps an eye on your blind spot, alerting you when you're attempting to merge into a lane that is already occupied.
Adaptive Cruise Control – ACC will automatically adjust your driving speed and following distance based on road and traffic conditions. Most new models can be equipped with ACC, including Jeep, Chrysler, RAM, and Dodge vehicles.
360° Surround View Camera – New RAM trucks feature an available Surround View Camera, which provides comprehensive visual of your vehicle's surroundings. Everything is projected on the central display, so you can really get an up-close look.
If you need assistance choosing the right new vehicle in Birmingham, feast your eyes on our amazing selection of Chrysler, Dodge, Jeep and RAM models for sale. Contact our dealership at (205) 588-6285 or come on down to Jim Burke CDJR at 1409 5th Ave N for a test drive. You won't even need 20/20 vision to see why we're one of the top car dealers near Hoover.
Sources:
https://nationaltoday.com/national-eye-exam-month/
https://www.driverknowledgetests.com/resources/can-you-drive-with-poor-vision-or-eyesight/
https://www.healthline.com/health/eye-health/eye-exercises
https://www.webmd.com/eye-health/meibomian-gland-dysfunction