Families across the country, from Birmingham, AL, to Fairfield, CA, have come to love their minivans. Summer vacation? Hop in the van. Big Costco run? Hop in the van. Weekend trip to Grandma's? Hop in the van. There's truly no beating a versatile people-hauler when you need the versatility to haul people.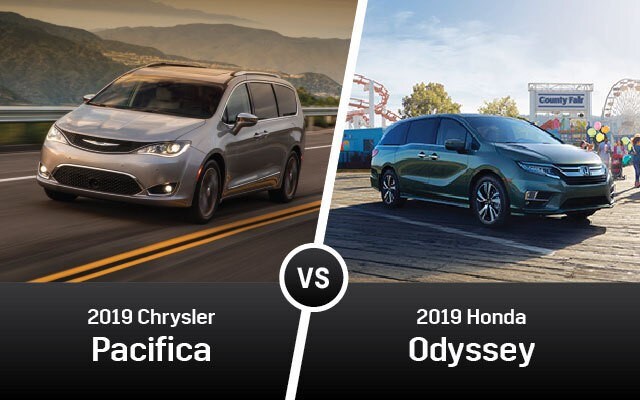 If you're ready to upgrade your family van –or if you're ready to bite the bullet and buy your family's first one – there are two models to put on your to-test-drive checklist: the Pacifica and Odyssey. Both models sit at the top of critics' "best minivan" lists, but which one is right for you? Read our Honda Odyssey vs. Chrysler Pacifica minivan comparison below.
Pacifica vs. Odyssey: Price
Available in 6 trims (L, LX, Touring Plus, Touring L, Touring L Plus, Limited), the 2019 Chrysler Pacifica is one of the most affordable new minivans on the market. The Pacifica L model has a starting price of just over $26,000, while its range-topping sibling Pacifica Limited features a sticker price of about $44,000. Buying a minivan on a budget in Birmingham? Go Pacifica.
The Honda Odyssey base LX model starts at over $30,000, and its top Elite trim comes in at over $47,000. If you really want to pay upwards of 15% more for your minivan, choose the Odyssey. Otherwise, budget-conscious minivan shoppers would probably do better buying the more affordable Pacifica and putting the extra savings into a College 529 plan.
Pacifica vs. Odyssey: Fuel Economy
America's first-ever hybrid minivan is here, and it's called the Chrysler Pacifica Hybrid. Offering an amazing 83 MPGe, the hybrid Pacifica minivan seamlessly switches from electric to gas as you drive, making the best of its incredible 520-mile driving range. Best of all, you can charge its electric battery in just two hours via an available 240V Level II home charging station. For the larger eco-conscious families out there, the Pacifica Hybrid is a no-brainer.
The Honda Odyssey does not come with a hybrid model, though its EPA rating is comparable to the gas-powered Pacifica (28 mpg highway/19 mpg city).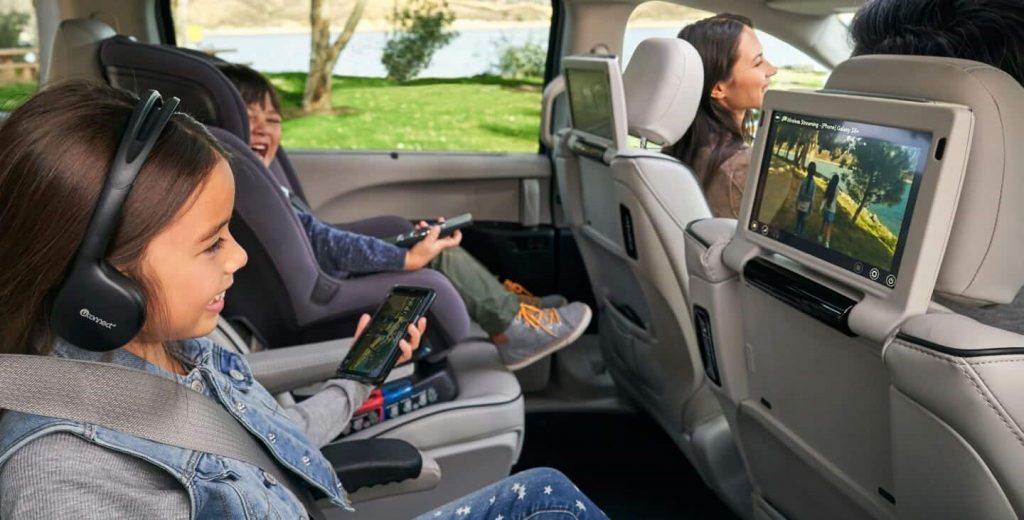 Pacifica vs. Odyssey: Utility & Space
"The Pacifica is more flexible and comfortable than any other minivan we've tested." – The Car Connection.
Indeed, the 2019 Chrysler Pacifica has pulled out all the stops when it comes to functionality. As other automakers have given minivans the cold shoulder, Chrysler has ramped up its Pacifica project by engineering it to be the hands-down best vehicle for families. In fact, Pacifica's versatility is perhaps its biggest selling point. What makes the new Pacifica such a functional minivan?
The Pacifica offers 165 cubic feet of space for passengers, which beats the Odyssey's 160.1-cubic-foot specs.
Chrysler's patented Stop 'N Go Seating – second- and third-row seats that fold flat into the floor – and Storage ensures the Pacifica can be transformed into a soccer van or a cargo van in a matter of seconds. The second-row seats even come with in-and-out Easy Tilt functionality. The Odyssey's Magic Slide 2nd-Row Seats™ are useful in their own right, but it's difficult to beat Pacifica's fold-down options.
As a piggyback, the 8-passenger Pacifica offers an incredible 243 different seating and storage configurations thanks to its innovative rear rows.
Perhaps best of all is the Chrysler Pacifica's premium 20-speaker surround sound system and an advanced Uconnect® rear entertainment system, the latter of which is the Grand Poobah of minivan theaters – period. Kiddos have access to two 10-inch high-definition touchscreens, nine built-in games, a Blu-ray player, dual HDMI inputs, separate headphone jacks, and even direct wireless streaming via Android devices. The 2019 Honda Odyssey only features a one-screen rear entertainment theater.
Pacifica vs. Odyssey: Style
If you grew up in the "mom van" era, comparing minivan styles may seem like a fruitless endeavor. But this is 2019 – minivans are not the oddly-shaped "dustbusters" they once were.
Case in point: The new '19 Pacifica. The Pacifica is engineered for the modern family, and it shows. While it embraces its minivan heritage, the Chrysler Pacifica rotates the dial to 11 thanks to a sleek front end, smooth side panels, and curves in all the right places. With hidden sliding door tracks, its side profile looks chic and clean. Add on a wide panel of rear glass, a tri-pane panoramic sunroof, as well as compact A-pillars, and the Chrysler Pacifica appears even smaller than it rightfully should be. Other minivans, take note.
Unlike the Pacifica, the 2019 Odyssey, now in its fifth generation, is looking a little long in the tooth – even though it was redesigned in 2018. Its characteristic "bolt of lightning" appearance is gone – a design gaffe, perhaps, made by Honda engineers – and replaced by a more stereotypical boxy minivan appearance. Simply put, this Honda minivan isn't reinventing the wheel; in fact, being built on the same platform as the Honda Pilot, Passport, and Ridgeline, the new Odyssey looks like every other large Honda on the road.
And Your Winner: The 2019 Chrysler Pacifica
Boasting a few best-in-classes and an amazing rear entertainment system, the new 2019 Chrysler Pacifica is more than just a minivan – it's your family's mobile oasis. We invite you to come take the Pacifica for a spin at our Birmingham Chrysler dealership, Where the Sale Never Ends! Contact Jim Burke CDJR at (205) 588-6285 to schedule a test drive or discuss your Pacifica financing options. We're located at 1409 5th Ave N in Birmingham, and we gladly serve shoppers and families throughout Hoover, Tuscaloosa, and all of Jefferson County.
Sources & Photos:
https://www.chrysler.com/pacifica.html
https://automobiles.honda.com/odyssey
https://www.thecarconnection.com/overview/chrysler_pacifica_2019