"Hey, honey. What truck should we buy?"
The all-new 2020 Jeep Gladiator, of course. What—was this a private conversation? Sorry for butting in. We just thought you'd like to know that Jeep's Wrangler-like pickup truck is quite an amazing specimen. An open-air cabin. A five-foot bed. Class-leading towing of 7,650 lbs. Off-road equipment galore. Yep, the Gladiator is a real marvel.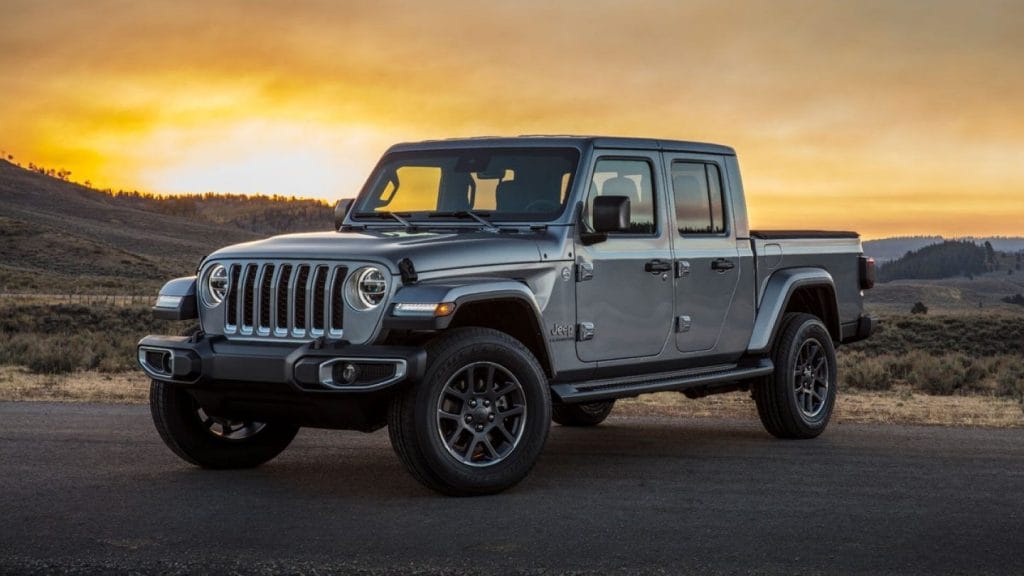 The Gladiator could have been a bomb. Many non-truck makers have tried to venture into the competitive pickup truck market; few have succeeded. With the Gladiator, however, Jeep appears to be one of those success stories. And while it may have taken nearly three decades to get here, Jeep's finally delivered a truck so unique, so utterly exciting, that we'd honestly be surprised if other automakers don't attempt to copy it. But that, friends, would be an impossible task, as the new Gladiator is one-of-a-kind.
Doing Everything is Gladiator's Bread and Butter
Built on an all-new high-strength steel frame, HD axles, and a splendid new coil rear suspension, the '20 Gladiator is one tough cookie. Rock-Trac® 4:1 Transfer Case? Got it. Aluminum FOX shocks? Steel rock rails from wheel to wheel? Standard 33-inch tires? Yep, yep, yep. Seriously, the new Gladiator is the most off-road capable midsize truck we've ever seen.
It's got plenty of class-bests on the spec and feature sheet, too: the largest brakes, its aforementioned 7,650-pound towing rating, a 1,700-pound payload rating, up to 11.1 inches of ground clearance—all blended with the legendary Jeep 4×4 capability. That's probably why it's the only Trail Rated® Pickup Truck Ever.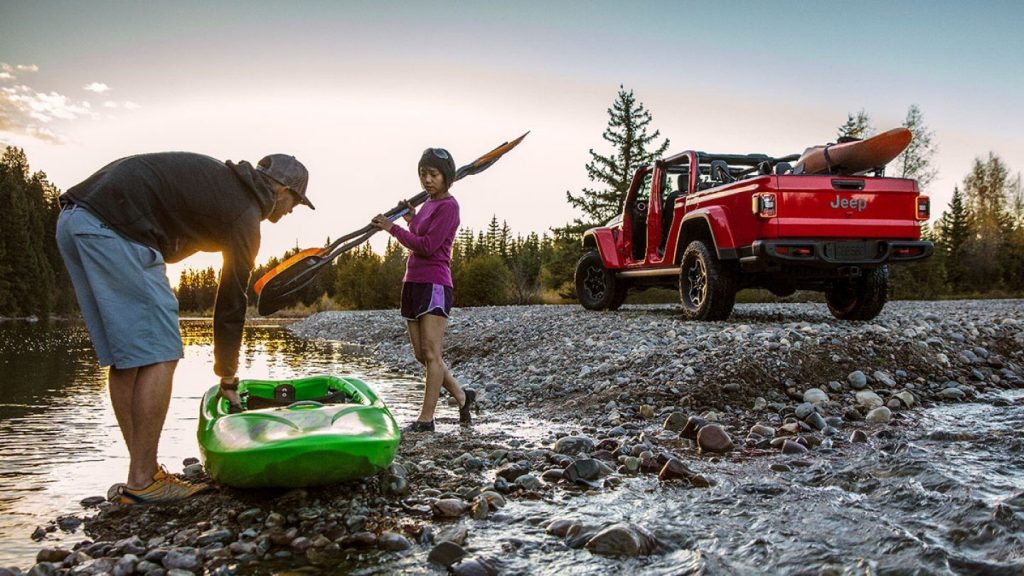 Best Reasons to Buy the Gladiator
If you need to do more than everything, the Jeep Gladiator won't hold you back. Take a look at all the one-of-a-kind features that make the 2020 Gladiator one of the best new pickup trucks in America:
Trail Rail™ System – Adjustable tie-downs, mounted to the front wall of the bed and bedsides, keep your storage options wide open.
Special Water Fording Sealant – Get through creeks, streams, and watery depths (up to 30 inches) thanks to a unique high air intake and commercial-grade water sealant around the cab.
Forward-facing TrailCam Off-Road Camera – The segment-exclusive camera system, complete with a tiny little lens washer, aids in off-road navigation, displaying the path directly in front of the Gladiator's tires.
Off-Road+ – Finely tune your adventures with the push of a button; adjust throttle, transmission shift points, and traction for any driving condition.
Zipperless Sunrider® Soft Top – Look, Ma! No Hands! (Okay, one hand.) Easily remove the soft top in minutes.
Freedom Top® – Remove the hardtop for a true open-air experience.
Removable aluminum doors – Like the Jeep Wrangler, the Gladiator also has lightweight doors that can be removed.
Removable Bluetooth® speaker – Weatherproof and rechargeable as you drive, this speaker is great for camping excursions.
This is Not a Review. This is a Tribute.
Love for the new Jeep Gladiator isn't solely stationed in the 35203 ZIP Code; it's spread as far as the internet's eyes can see—which is just about everywhere. Gladiator owners love it. Jeep Wrangler owners love it. Everyone with a pulse loves it. Here are some critic reviews to prove the 2020 Gladiator is one of Jeep's best vehicles to date:
Take everything you like about the Wrangler — the timeless styling, the off-road prowess, the confident height, even the ability to peel off the doors and roof — and add the utility of a five-foot-long cargo bay. It's an off-roader, a five-seat family car, a convertible and a pickup truck all in one. It's all good.

Gear Patrol
We've driven it. Not just driven it, mind you. Oh, no. We drove it. Mud. Rocks. Angles. Four low. Locked diffs. Did we mention angles? What about fear? Off-roading is like that, a tiny niche of the automotive universe which has perverse angles, ridiculous articulations, and insatiable need for grip that rearrange our perspective on life every time we shift a real transfer case. Also, it's fantastic.

Car and Driver
The Gladiator is the right-sized, right-equipped hauler for me, and on top of that, it makes me smile just getting behind the wheel, and you can't put a price on that.

Motor Trend
Eight hours in the driver's seat last week showed why the Gladiator is the most interesting truck on sale today—and maybe one of the best.

The Drive
This burly off-road machine does almost anything the ballyhooed Jeep Wrangler can do, but it's also a practical pickup with a useful bed design and healthy payload and tow ratings. Inside, the cabin is nicely trimmed and easy to live with, and its back seat is more spacious than any of its closest rivals. And don't forget: It's the only convertible pickup.

Edmunds
This vehicle is almost like a Jeep Wrangler with a bed; you can remove the top and doors, and even fold down the windshield – things that no other truck can do.

U.S. News & World Report
The new Jeep Gladiator might look like just a Wrangler with a pick-up bed attached. But it's quite a bit more than that – it's the beginning of your adventures.

Top Gear
Gladiator easily gets up and over rocks, can ford deep puddles and generally gives off that "we can go absolutely anywhere" vibe — just like a Jeep should.

Roadshow
The 2020 Jeep Gladiator is Everything You Want in a Wrangler Pickup Truck.

Road and Track
Even without all of the options, the materials, quality and design of the Gladiator feel a step and a half ahead of Ford or Chevy. And compared to older trucks like the Toyota Tacoma…the Gladiator is practically a Bentley.

CNBC
The Gladiator is so many things in one. It offers the iconic styling and off-road capability of the Jeep Wrangler, the functionality of a pickup truck and a convertible top.

Auto Trader
I yearn for adventure—you know, the dusty, muddy, rocky, out-in-nature type of adventure. And the Jeep Gladiator is by far my favorite pickup truck to tag along.

Me
A tribute, indeed.
---
Would you like to join the masses and get struck by Jeep's version of Cupid's arrow? Time to venture into our Birmingham Jeep dealership to test drive—and fall for—the 2020 Gladiator. Contact our Jeep sales team at (205) 588-6285 to make an appointment, or simply swing by our showroom at 1409 5th Ave North to check out this Jeep pickup in person. We're located in Birmingham and serve Jeep-lovers from Tuscaloosa to Hoover. Come say hi.