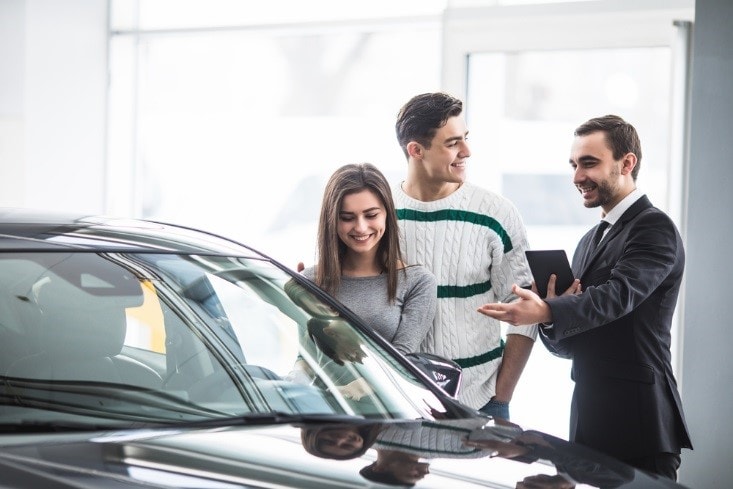 Carvana prides itself on offering "a whole new way to buy a car." Ordering online is great for purchases like laundry detergent and take-out pizza, but a vehicle is a serious investment. Would you buy a home online, sight unseen? Not likely. The same logic applies to buying a used car online. Take a look at these 5 reasons why shopping online is inferior to buying at a used car dealership near you.
Reason #5: Carvana Only Sells Used Cars
For anyone wondering, "Can you buy new cars from Carvana?" -- the answer is a flat out "no." Buying a car is not a one-size-fits-all situation, but Carvana makes it that way by only selling used cars.
At a dealership, you get to shop dozens if not hundreds of used cars as well as brand-new ones. Plus, sales and incentives can make a new car more affordable than you think. For some people, leasing a vehicle is the best way to go, and leasing isn't possible with a pre-owned vehicle. You won't know about all of your options if you don't visit a dealership.
Reason #4: Carvana Isn't a Local Business
A car dealership is a local business. The employees are your neighbors and live right in your community. Most people buy a new vehicle every few years, so why not build a relationship with them? It's worth getting to know the car dealer in your town.
And that stereotype about pushy car salespeople? That was your dad's car-shopping experience. Times have changed, and you'll never feel pressured or hassled at our dealership in Birmingham.
Reason #3: Carvana Makes You Work Around Their Schedule
With Carvana, you have to rearrange your schedule to be home for your car delivery. And if you decide to pick up your car from the nearest hub, that could be a day or two off work. Who has the time? Loads of Carvana customers have expressed frustration with this process.
You don't need to rearrange your schedule to buy a vehicle at a dealership. Stop by, browse, and test drive—when it's convenient for you.
Reason #2: Dealerships Can Save You Money
At a dealership, you can get a loan from the financial institution of your choice. You can also see what in-house options you're eligible for.
Carvana has in-house financing, but the word on the street is that they use a subprime lender with high APR rates. And your outside financing options are limited because there are several banks and credit unions that Carvana doesn't work with, including:
A+ Federal Credit Union
Ally Bank
CarFinance
Exeter Finance Corp
MetaBank
RoadLoans
Wells Fargo
But saving money goes beyond a good APR rate. When considering, "Is Carvana cheaper than a dealership?" remember the extra costs and hassle associated with:
Time off work for the car delivery, or
Time off to travel to the nearest hub

Gas, food, and possible hotel expenses
If you decide to return your vehicle within the 7-day grace period, multiply those expenses x2. In the end, how much money are you actually saving with Carvana?
Reason #1: Carvana Doesn't Let You Test Drive
Carvana doesn't let you test drive vehicles, at least not in the conventional sense. Here's what you have to do before you can get in the driver's seat:
Purchase the car (no, really)
Pick it up or have it delivered to you
Then and only then can you "test drive" the car for a week. Carvana expects you to purchase a vehicle based on photos alone. But a photo can't tell you how the car handles or how comfortable the seats are.
Test Drive at Our Birmingham Car Dealership
At a car dealership, a test drive costs you nothing but your time. You can also test drive multiple cars, giving you the chance to purchase a vehicle you're going to love. When it comes to Carvana vs. a dealership, the advantages are clear. Stop by Jim Burke CDJR at 1409 5th Ave North in Birmingham, AL, to test drive a car today. Our car dealership serves shoppers in the entire Birmingham region, including Hoover, AL.
We'd like to address our current Coronavirus outbreak and how we're keeping our Birmingham car dealership safe for staff and customers. To ensure all visitors and staff members at Jim Burke CDJR are protected, we've taken extra precautions with our processes. All vehicles are sanitized before and after test drives with disinfectant. Team members who are experiencing any illnesses are asked to stay home – and we ask the same of our customers; you can easily reschedule your appointment to a later date by contacting us at (205) 588-6285.