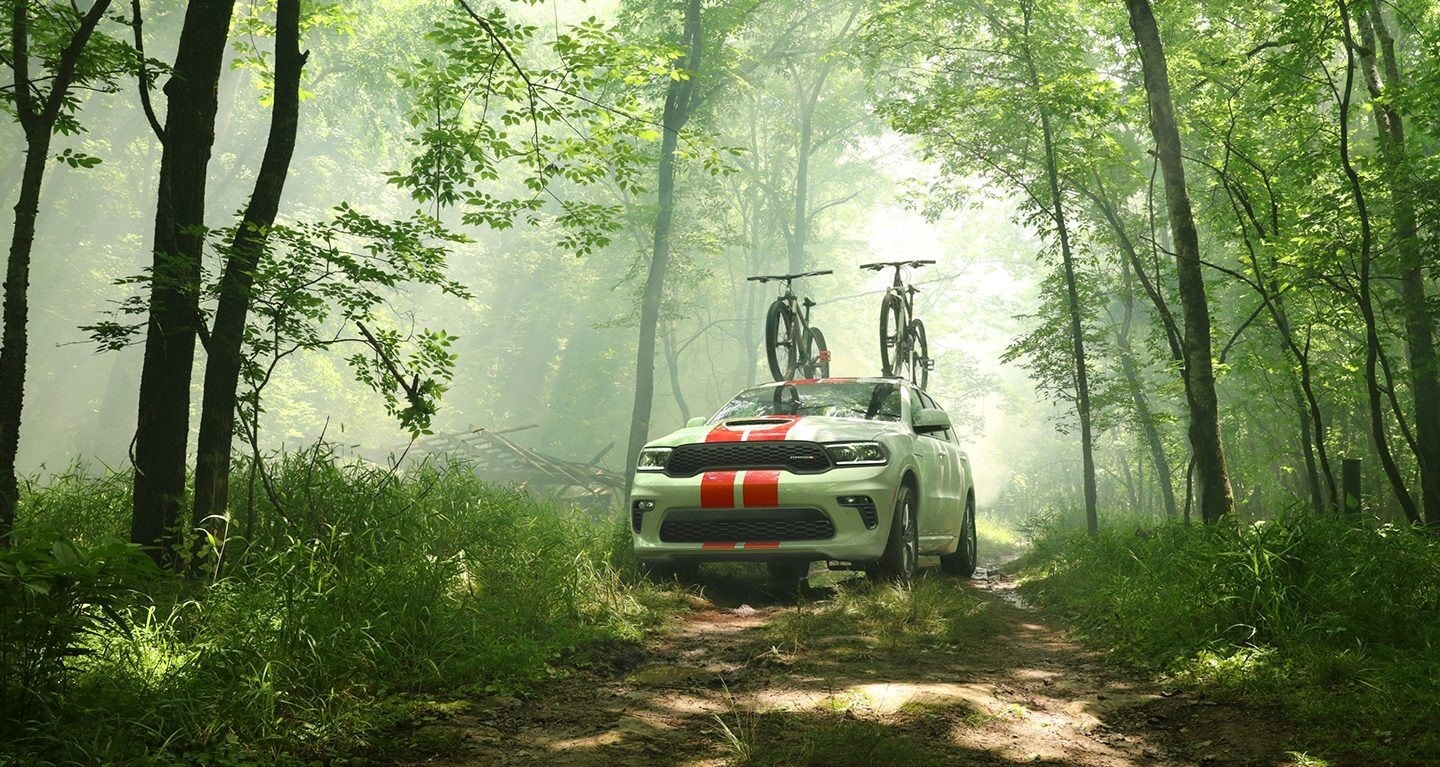 Are you deeply offended at the thought of packing your family and gear into a three-row SUV that is somehow powered by a 4-cylinder engine? Does having to tick an option box on an order sheet to get a V-6 crush you inside just a little? Would you revel at the opportunity to do parking-lot donuts while the other parents can only jealously stare?
Let the team at Jim Burke Chrysler Dodge Jeep Ram introduce you to the bad mamma jamma of the mid-size SUV world: the
2021 Dodge Durango, now available for sale in Birmingham
.
Durango History Lesson
The Durango burst onto the crowded US market in 1998 with unique and aggressive styling, comfortable seating for 7, towing capacity of up to 7,500 lbs., and big power from an available Magnum V-8. It's seen some big updates since the late '90s: a Shelby variant back in '99, the upgrade to an available Hemi V-8 in 2004, a luxury Chrysler spin off called "the Aspen," the 2011 model year shift to unibody construction to meet the demands of a shifting market, and a slew of leading safety, technology, and comfort equipment.
Say Hello to the 2021 Durango SRT Hellcat
Now, 2021 sees the Durango evolve to its ultimate form with the addition of the Durango SRT Hellcat. This performance monster receives the Supercharged 6.2L Hemi SRT Hellcat V-8 engine that's been dominating the drag strip in the Charger and Challenger Hellcat models for years. This engine makes the Durango Hellcat the most powerful SUV ever by producing a pavement torturing 710 horsepower and 645 pound-feet of torque. Dodge tells us to expect a 0-60 run in only 3.5 seconds, an NHRA certified quarter-mile to fly by in 11.5 seconds, and a 180 MPH top end.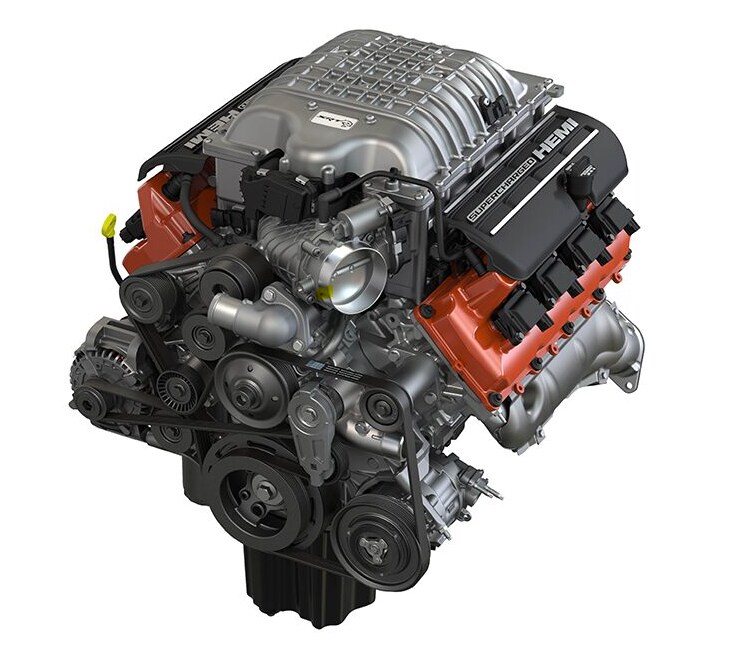 The SRT Hellcat features race-inspired technology that boosts performance and driver enjoyment. Launch Control manages tire slip to deliver consistent straight-line acceleration while Launch Assist uses wheel speed sensors to control wheel hop at launch and put the power from the supercharged 6.2L Hemi V-8 down efficiently. It's also equipped with 15.75" Brembo brakes in the front and 13.8" Brembo brakes in the back.
Durango customers who buy the Durango SRT Hellcat or Durango SRT will head to Chandler, AZ, for a full-day session of the Dodge//SRT Package at the Bondurant High-Performance Driving School, where they'll safely learn how to get the most performance out of their new Durango. (You can read up on this awesome perk at https://www.dodgegarage.com/track-experience.)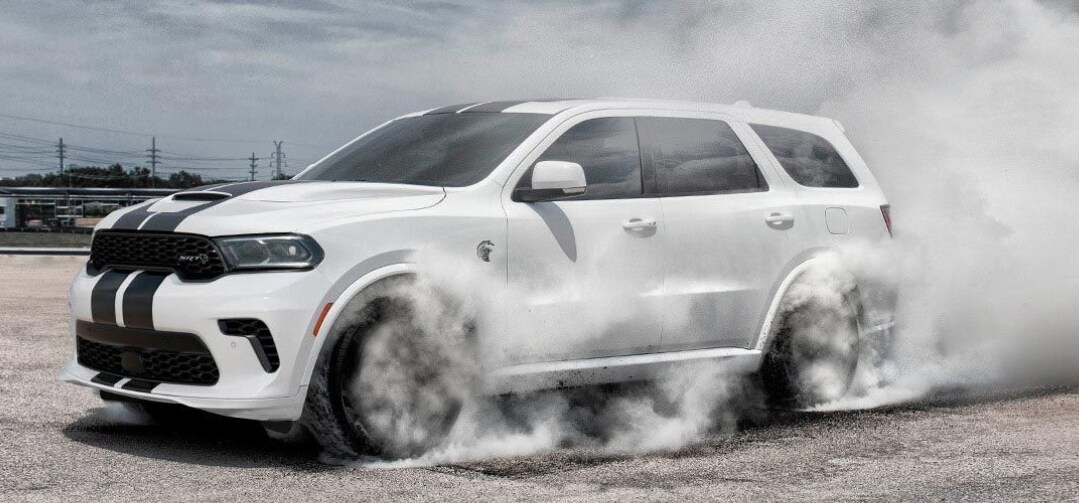 2020 vs. 2021 Durango Changes
The addition of the SRT Hellcat is a big deal but it isn't the only change to the 2021 Durango. The entire Durango lineup gets an updated and more-aggressive exterior with a new front end, LED high and low beam headlamps, LED daytime running lights, wheel options, and rear spoiler.
The cockpit has been updated to be even more driver-oriented with a new instrument panel, updated center console, upgrades to the door panels, and the all-new Uconnect 5 which boasts a 10.1-inch touchscreen and five times faster performance.
The 20201 Durango is equipped with a bevy of technological advancements to keep your passengers safe. There's the available Adaptive Cruise Control with Stop system (standard on the Citadel) which maintains your speed if the road is clear but can adjust speed based on traffic conditions and even completely stop your vehicle if necessary. Blind Spot Monitoring6 helps keep you aware of obstacles when changing lanes. You can also add available Advanced Brake Assist, opt for Rain Sensing Wipers, check the box for LaneSense Lane Departure Warning with Lane Keep Assist9, or take advantage of the optional Forward Collision Warning with Active Braking (FCW+) system.
The 392-cubic-inch Hemi V-8 and classic 5.7L Hemi V-8 join the SRT Hellcat with towing capacities of 8,700 pounds. The Pentastar V-6 is no slouch with plenty of awards to brag about as well as a towing capacity of 6,200 lbs.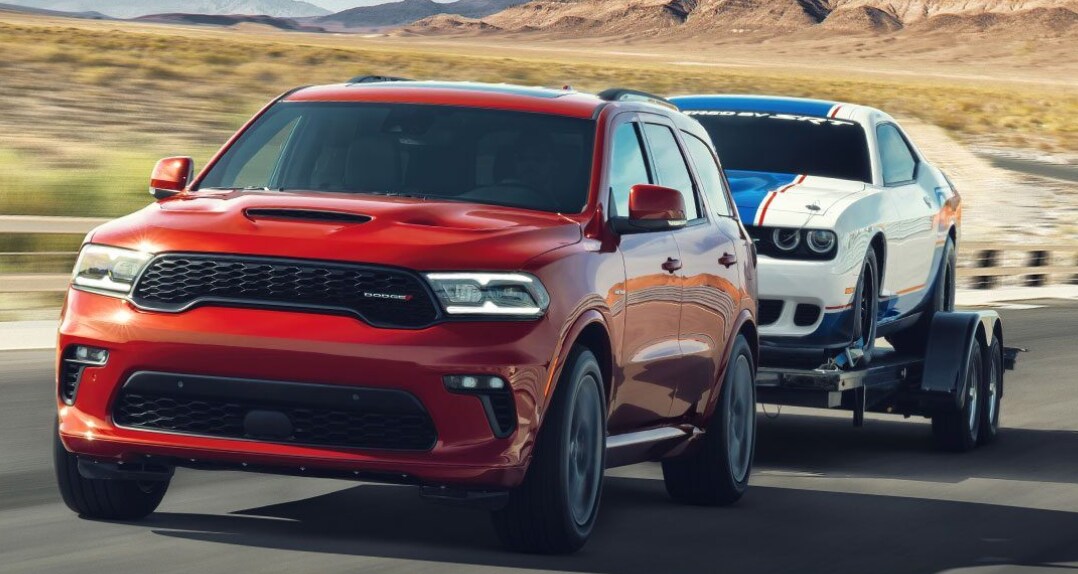 The interior of the 2021 Durango is a model of comfort and flexibility with room for seven, more than fifty seating configurations, fold and tumble second-row seats, 15 available seat swatches, Internet Connection Sharing dashboard, available heated and ventilated front seats, as well as available Android Auto and Apple CarPlay support.
Get Your New Durango Today at Jim Burke CDJR
The Durango has always provided a family-hauling experience that oozes machismo and the 2021 Durango ups the ante by going full throttle with the SRT Hellcat as an option. The Durango SRT Hellcat is only going to be produced for the 2021 model year, so you'll need to act fast if you want to rule the line to pick up your kids after school, pass everyone you want on the highway, and have the most exciting SUV experience on the road.
The team at Jim Burke would love to show you the 2021 Durango. To arrange your test drive, contact our Birmingham Dodge sales team at 205-518-8193. We'll shower you with world-class savings on the new Durango – or any new or used car, for that matter! In fact, our monthly car specials are a big reason why we're recognized as one of the best car dealers in Birmingham.