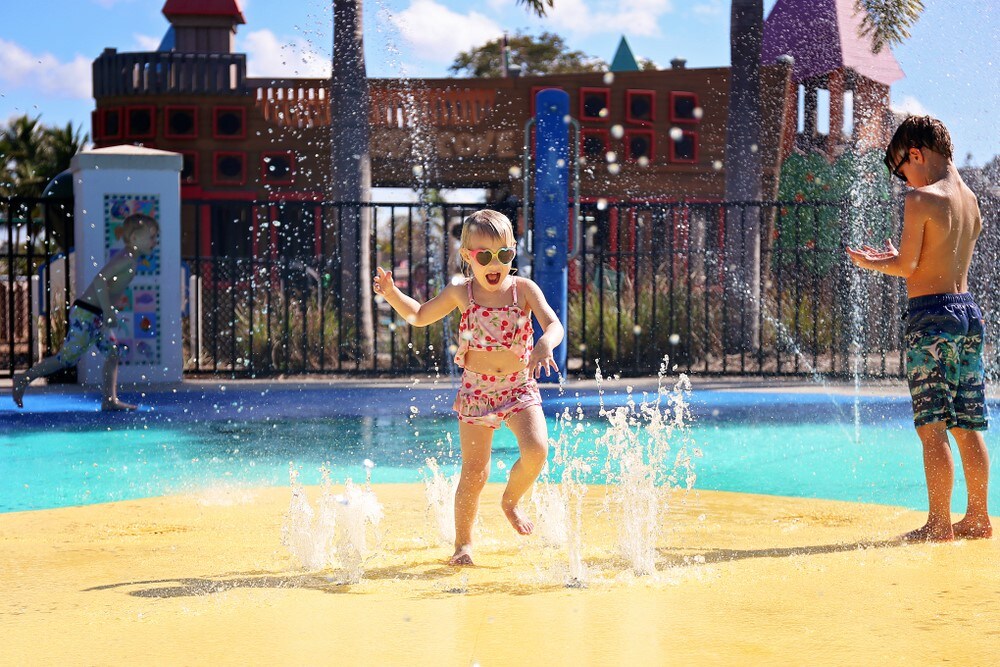 Summertime is right around the corner, and with it comes the potential for tons of opportunity for outdoor fun with the family!
There are all kinds of great summer activities for parents and kids alike. You could go and grab some ice cream, go for a nice day hike in the park, or even just frolic in your own back yard. At Jim Burke, we think one of the best ways to spend time with the kids—and beat the summer heat at the same time—is to go to a good splash pad or water park near you.
Some young parents don't even realize: there are a ton of places to play in the water in Birmingham. Just load up the minivan, and a short drive is all that's between you and a great day in the sun! Let's check out just a few of our favorite and best splash pads around Birmingham.
Gardendale Splash Pad at Celebration Park
Splash Pad Open: May 1st
Hours: Tuesday to Sunday, 10am until dusk
Location: 2191 Fieldstown Road, Mt Olive, AL 35117
Northside folks will probably already know about this gem just outside of Mt. Olive. This one opens in just a couple of weeks, so you and the kids can start getting your cool on early! Not only does it have an all-ages splash pad setup, but it comes complete with a full playground and two decently-sized pavilions for parents to grab some shade. It's a fantastic place to host a birthday party, and the park itself has plenty of space to roam for other activities.
Midfield City Park Splash Pad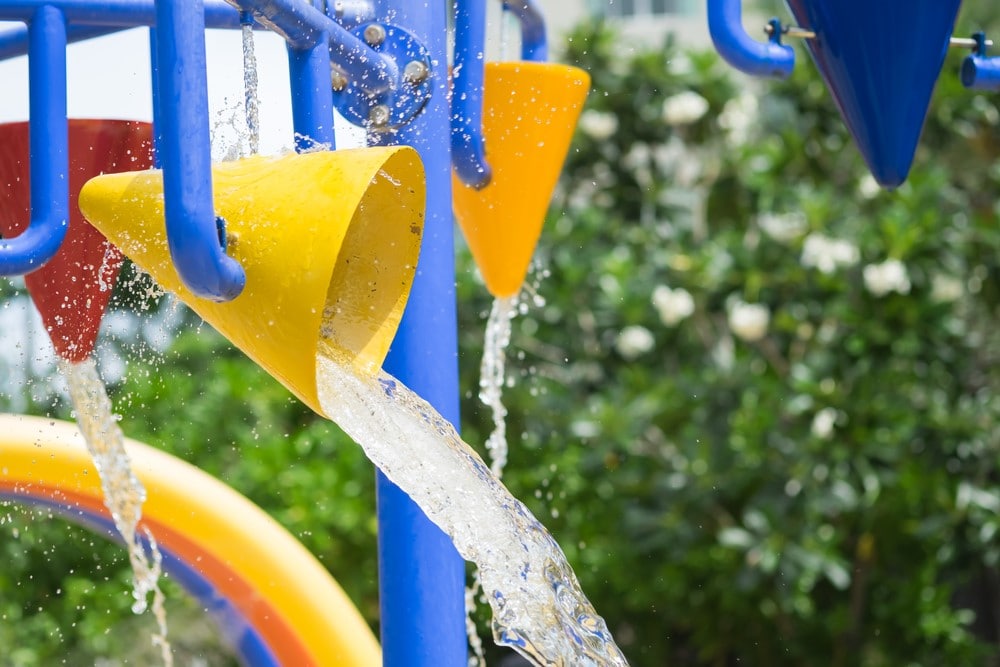 Splash Pad Open: May 14th
Hours: Monday to Thursday, 12pm to 9pm; Saturday, 9am to 5pm
Location: 410 Grant Street, Midfield, AL 35228
Nestled right between Bessemer and downtown Birmingham is the quaint little town of Midfield, and they have a great city park complete with its own kids and infant splash pad outside. This location suits kiddos all ages, all the way down to those still in the crib. There's even a little gazebo and table setup nearby, so it's great for small outdoor get-togethers.
The park is also home to the Midfield Rec center, with all kinds of activities for parents like tennis, aerobics, boxing, and $3 Zumba classes. In addition, they have their own summer lunch program for everyone 18 and under—pretty cool, if you ask us! Contact them at (205) 923-2455 for more details.
Leeds Splash Pad
Splash Pad Open: Late May or Early June
Hours: Tuesday to Saturday, 10am to 6pm; Sunday, 1pm to 6pm
Location: 804 Park Drive, Leeds, AL 35094
Just a few blocks away from Leeds Memorial Park, you'll find this eccentric splash zone. With its fun beachy vibe and cute pelican fountains, it's bound to captivate smaller children's imagination, and brave little tykes can check out the bucket waterfall. This one is free to access for all Leeds residents. Stay tuned on the website for an official opening date, or call (205) 699-0935.
With a couple other parks just a hop, skip, and a jump away, there's plenty of other fun outdoor activities in the area. Once the kids are all tuckered out, bring everyone down the street to Rusty's BBQ for some tender Alabama-style brisket and ice-cold sweet tea!
Explore Playground and Splash Pad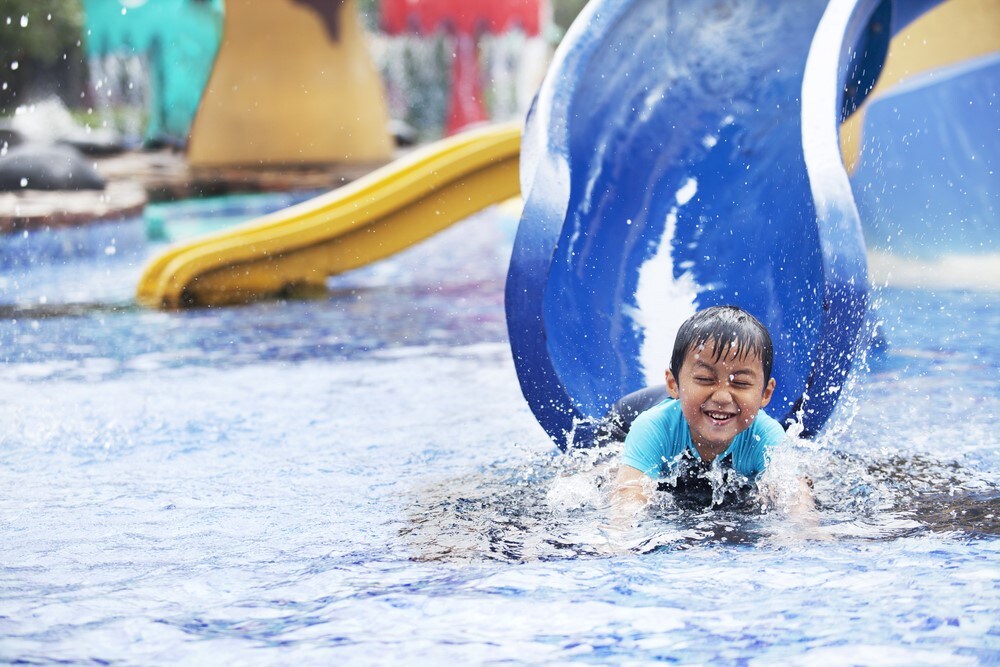 Splash Pad Open: May 17th
Hours: 7 Days a Week, Sunrise to Sunset
Location: 1060 RV Trace, Hoover, AL 35244
This one is often considered the undisputed king of kid-friendly water activities in Birmingham: The 7,000 square foot splash pad at the Hoover Met Complex. This high-end facility is designed with both style and accessibility in mind, with tons of things to do for children of all ability levels. It's accompanied by a playground double the size, so you know you're never going to run out of exciting things to explore.
(Note: as of this writing, the official website says the splash pad is closed for the season; we called them personally to get the official 2022 opening date.)
The Hoover Met Complex offers tons of things to do for older kids as well, including their indoor climbing facility. Travelers will also be excited to know that the Complex even has its own RV park! Check here for reservations.
Bonus Attraction: Splash Adventure Water Park
Park Opens: May 14th
Hours: 10:30am to 7:30pm (for full schedule, check here)
Location: 4599 Splash Adventure Parkway, Bessemer, AL 35022
Okay, sure, this one is a gimme—after all, everyone in Central Alabama knows Splash Adventure is one of the best water parks near Birmingham!
For those of you new to the area, this one's a full-fledged amusement and water park, and it's absolutely perfect for those of you who have a mix of younger and older kids, or maybe even no kids at all.
Younger kids and toddlers should check out the Aqua Maze, a 4,600 square foot adventure with tons of fun twists and turns. Splash Island also offers entertainment for the young'uns—think of it as a splash pad, just a little more grown up.
Daredevils will find loads of enjoyment with the Free Fall and Rocket Racer speed slides, and the nearly-new Twister slide has been drawing in loads of attention from water park enthusiasts all over.
And, of course, it all comes with all the fun of a big-time amusement park: great food, cold drinks, and even a couple of death-defying dive shows. For under a hundred bucks, you can even get a season pass, which grants entry all summer long, along with free drinks and other discount products. Hey, we know a great deal when we see one!
Let Jim Burke Be Your Guide to Family Fun!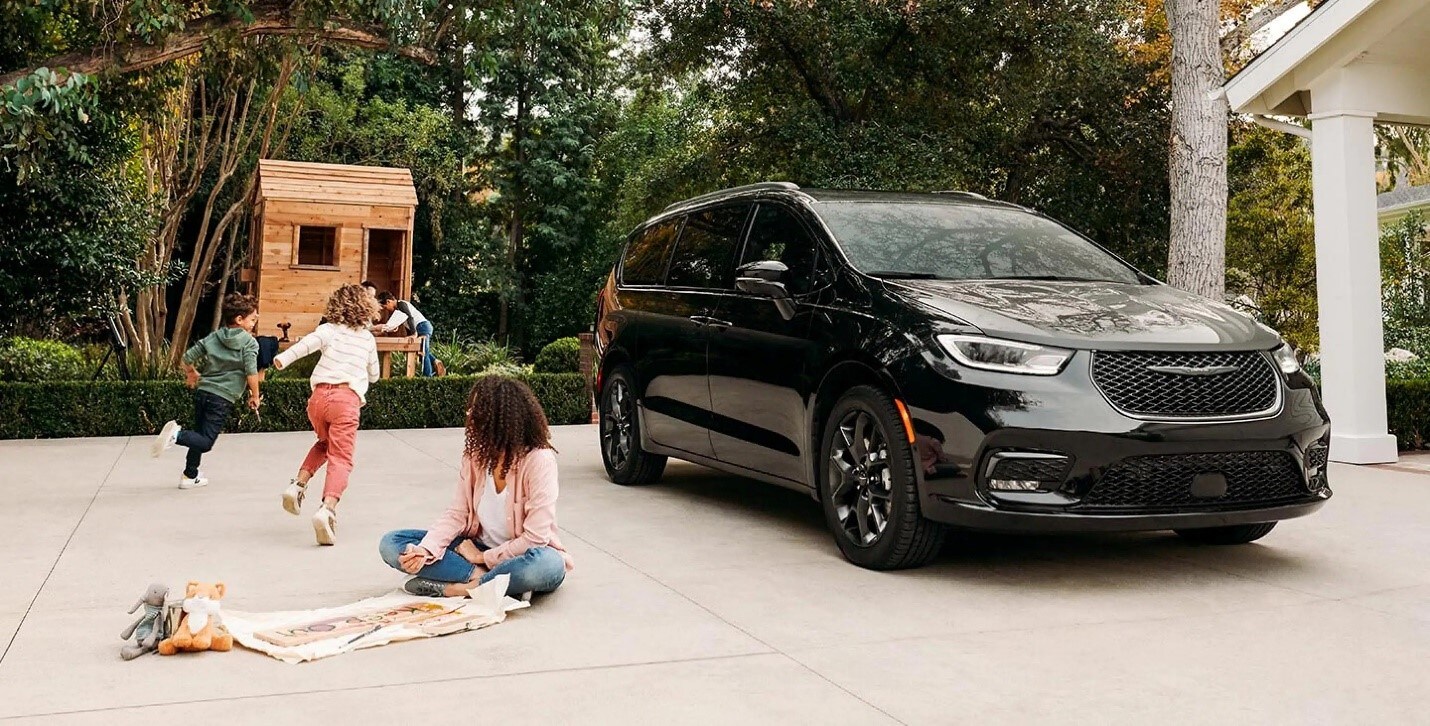 We consider all our customers one big family, and if your family is as big as ours, you might need something big to haul 'em all around in. That means you'll want a safe family minivan. Luckily, our Birmingham auto dealership has got tons of finance specials going on the new 2022 Chrysler Pacifica right now! With a 9.5/10 rating from Car and Driver and an IIHS Top Safety Pick+ award, it's the perfect pick to make the most of summertime with the people you love.
If you want to ask us about buying a new minivan, give us a call at (205) 502-2772 to schedule a test drive in a Chrysler Pacifica for sale in Birmingham. Surf's up, Alabama!