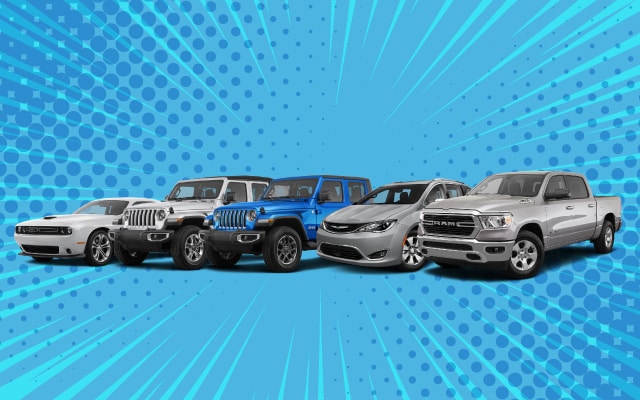 Between DC, Marvel, and every other franchise, it's hard to keep all this superhero stuff straight. Still, both hardcore and casual comic book fans tend to agree that the Justice League reign supreme as the best all-star team of heroes—whether you're talking about far-flung galaxy saving in classic print, or Ben Affleck and Gal Gadot bringing our favorite heroes to the silver screen.
With decades of history behind their adventures, let's play a little game: if we were gonna cast our favorite vehicles in the roles of DC heroes, what would we pick? The answers might surprise you…
RAM 3500 as: Superman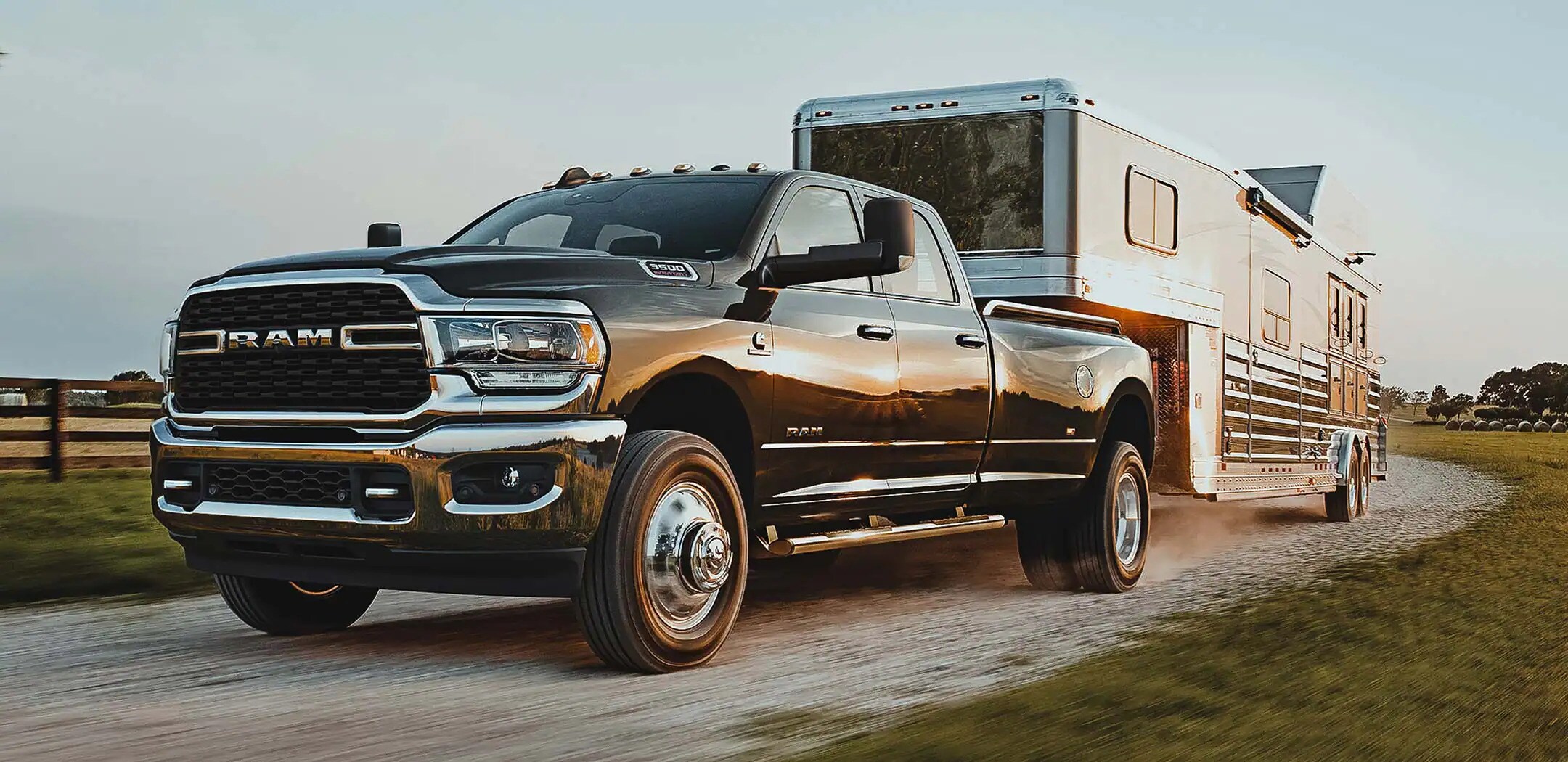 Okay, we'll admit that this one is kind of a gimme—still, what better vehicle to play the most powerful being on Earth than one of the most powerful trucks?
It all starts with the available monster engines, from the standard 6.4L HEMI V8, to the 6.7L High-Output Cummins Turbo Diesel. The latter boasts a segment-leading towing capacity of over 37,000 pounds. You may not be able to leap tall buildings in a single bound, but with power like that, you won't have to.
Another of Superman's famous qualities is the sheer variety of powers he possesses. Heat beams, supersonic speeds, freezing breath, x-ray vision, the list just goes on and on. There's practically nothing Kal-El can't do, and the same goes for the RAM 3500 family of trucks. With five different trim levels and multiple cab and bed configurations, like the hero himself, this ride has the tools to get just about any job done.
The best part? You don't even have to worry about Kryptonite. Just head to a RAM truck dealer near you!
Chrysler 300 as: Batman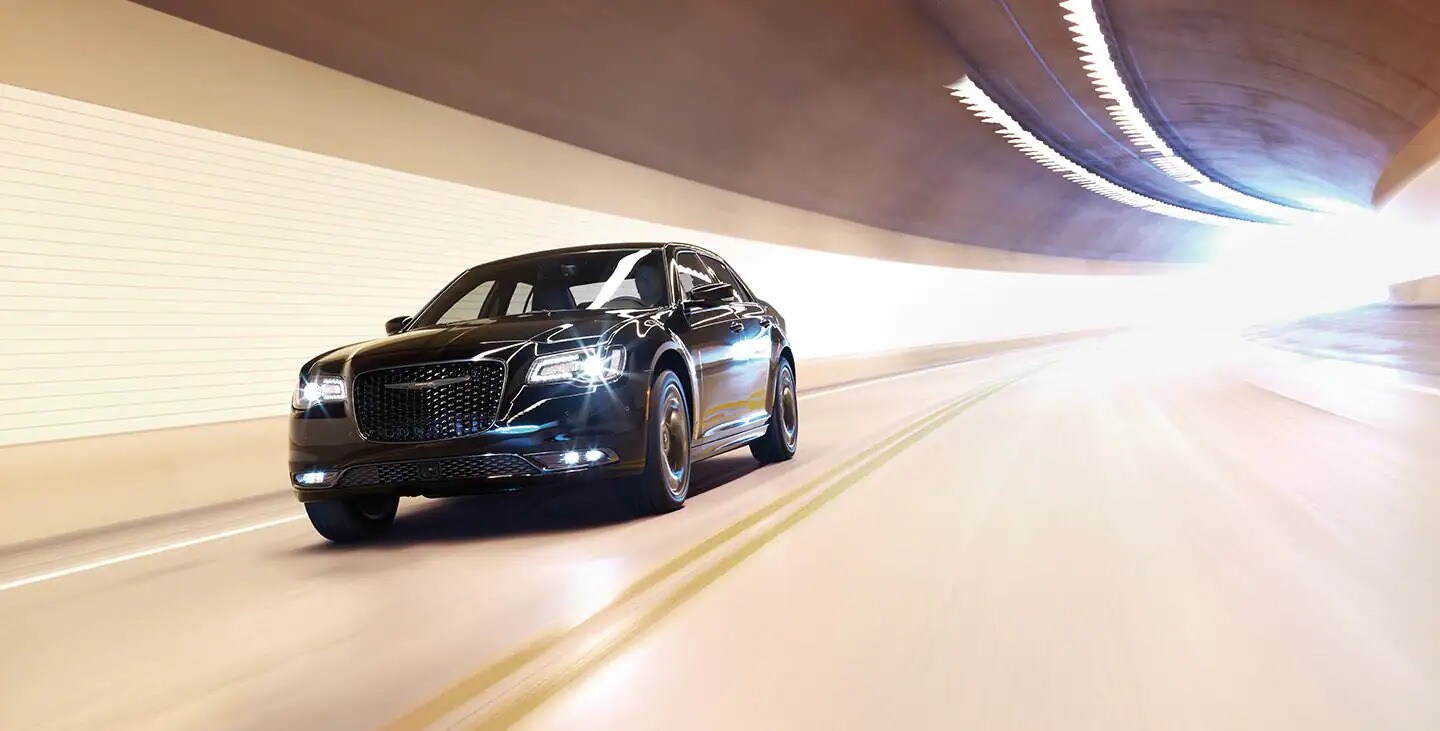 It should come as no surprise that playboy philanthropist Bruce Wayne has a taste for the finer things in life. After all, being the Dark Knight may be his true calling, but he does still have to keep up appearances.
To find out why this is one of the best luxury cars on the market, look no further than its impressive selection of comfort, convenience, and safety features. Being a full-sized sedan, the 300 has acres of space for both passengers and cargo. Upgrade to the 300S model, and you'll be treated to finely stitched Nappa leather upholstery, complete with seat heaters.
Infotainment and tech features abound in even the base-level trims, but if you want to live the pampered life of a Gotham City socialite, the 300S offers the largest standard touch screen display in its segment, along with all kinds of connectivity features like Apple CarPlay and Android Auto to give you the very best in navigation and sound quality. A standard Alpine premium audio system comes equipped as well, complete with a trunk-mounted subwoofer.
Lastly, we all know Bruce Wayne is about style and substance, which is why this bad boy has the optional HEMI V8 engine for performance to rival the Batmobile itself.
Jeep Gladiator as: Wonder Woman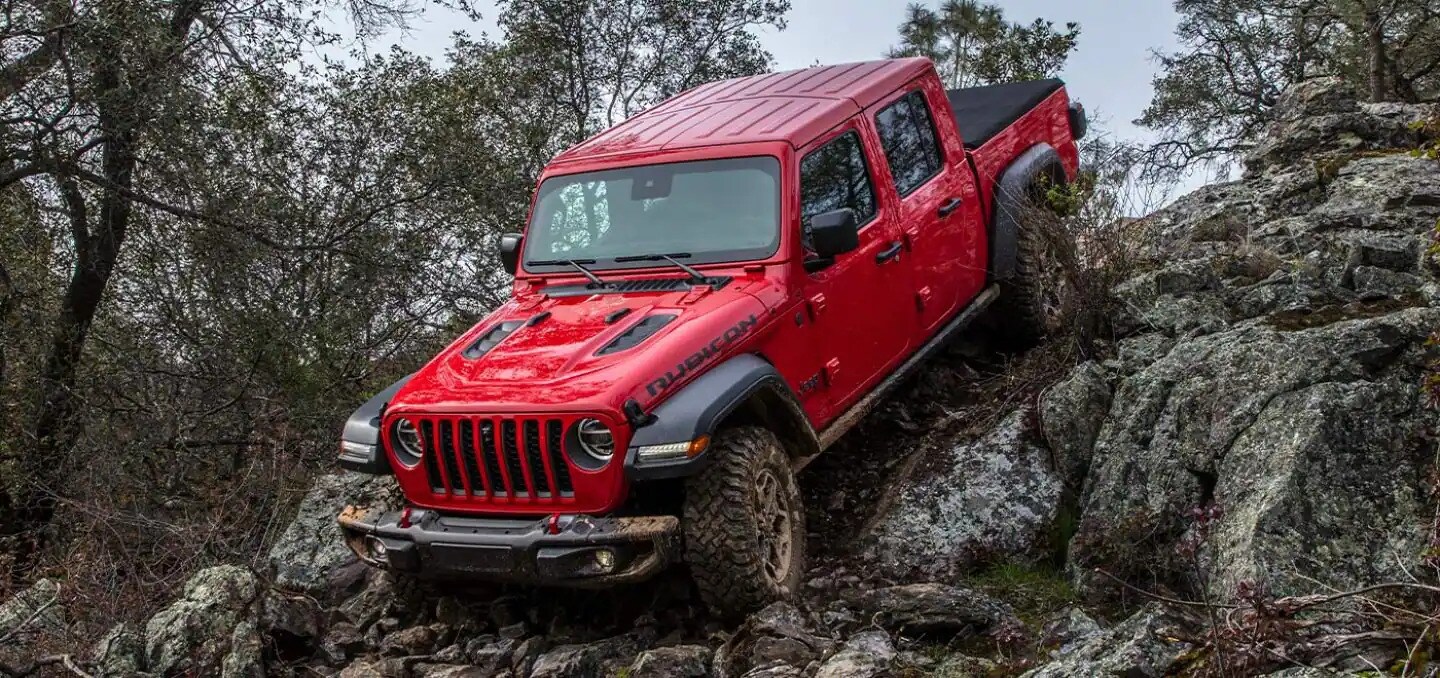 Like her colleagues, Princess Diana of Themyscira lives the life of a well-respected professional when she's not saving the world, but make no mistake, this is a true warrior we're talking about here—hence, the Gladiator. Get it?
Wonder Woman's superhuman strength and reflexes match the Gladiator's ability to handle any terrain with power and, dare we say, grace. And, like Wonder Woman, the Jeep nameplate has a storied history as one of the most legendary vehicles out there.
The Gladiator takes all the classic Jeep design specs, and kicks things up a notch by adding the steel 5-foot cargo bed. Not only does this provide an impressive amount of storage space, but it allows you to mix it up on the trail like never before. Bring a dirt bike or ATV out with you, or make use of a vast selection of accessories to up your camping game to the next level. MOPAR offers more OEM parts than you can shake the Sword of Hephaestus at.
You don't need the heroine's famed lasso to see the truth about the new Gladiator: it's one of the best off-road trucks on the market, bar none.
Dodge Charger as: The Flash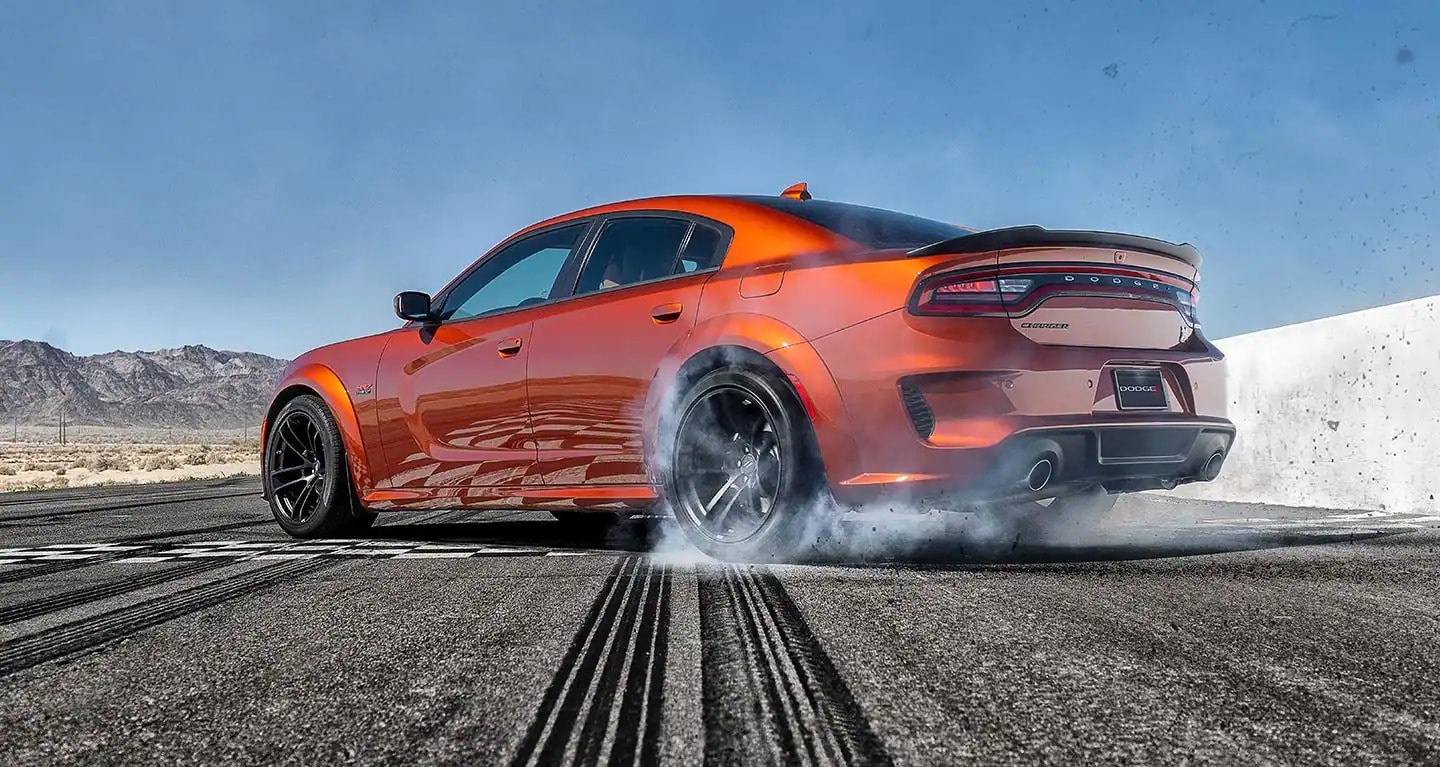 Like the famed Charger, the Flash has seen many incarnations, with many heroes picking up the mantle. Perhaps the best known, though, is Barry White.
Since it first came on the scene in the 60's, the Dodge Charger has commanded a respected place, both on and off the racetrack. The 2022 model year boasts a variety of engine options across its various trims. The standard 3.6L Pentastar V6 is enough to blow your hair back on its own, but real speed freaks like The Flash can opt for a supercharged 6.2L HEMI, which puts out almost 800 horsepower and exerts 707 lb-ft. of torque for a truly insane ride. If you want to tap into the legendary Speed Force, look no further, because this was designed to be the most powerful mass-produced car on the road.
Other features that help you reach breakneck speeds include the optional 4 or 6-piston Brembo brakes, complete with selection of black or red for a little added style. Launch control allows drivers to set the exact point in RPMs when you want to race off at. A sport-tuned suspension option is available as well, which complements the all-wheel drive and allows confident driving in all conditions.
If all that sounds like fun to you, then there's never been a better time to buy a Charger at a Dodge dealership near you. Because pretty soon, this muscle car is going all-electric.
Chrysler Pacifica Hybrid as: Aquaman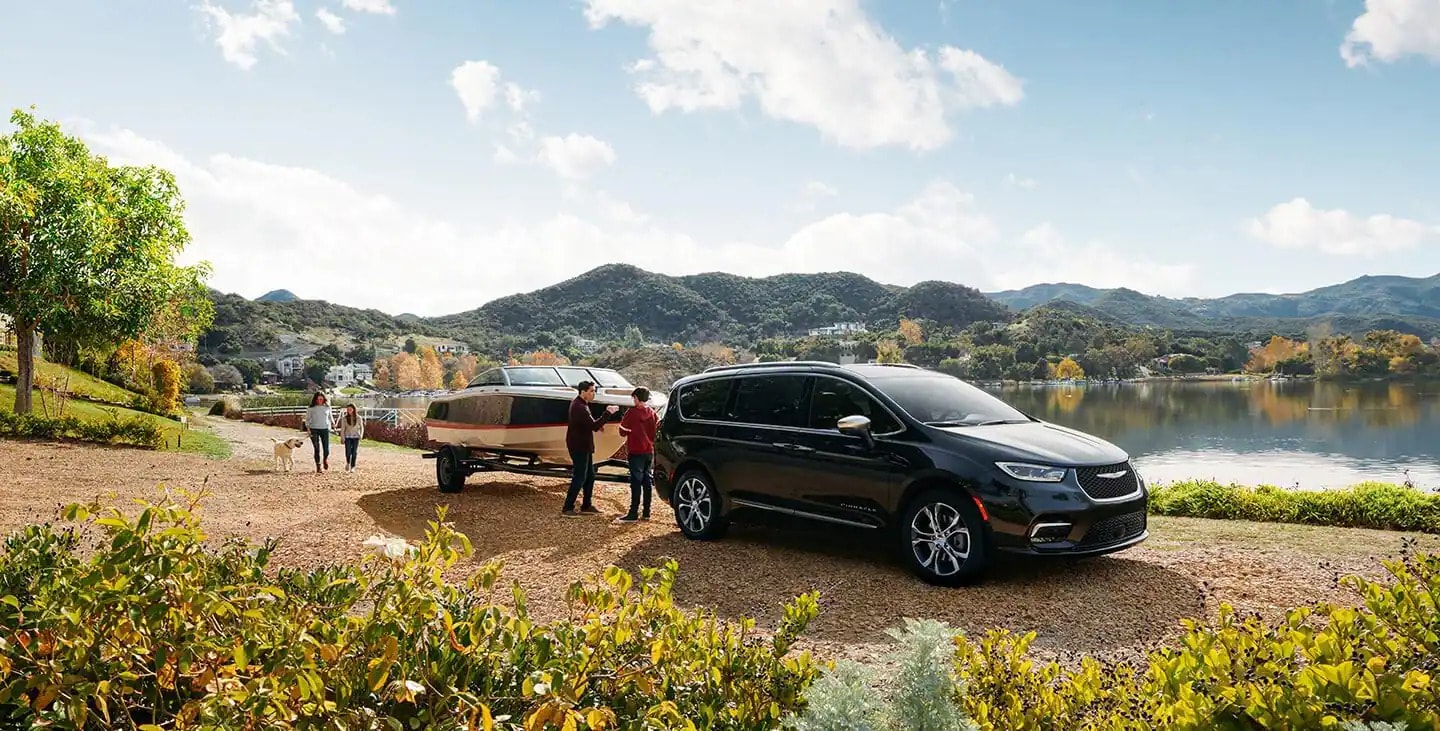 As many of you know, our friend the Prince of Atlantis doesn't get a fair shake. Sure, maybe he lacks some of the flash of his fellow heroes, but that doesn't mean he can't pull his weight.
Perhaps more than any other hero, Aquaman has always been a symbol of environmentalism, and keeping our air and water clean. The spacious, carpool-ready Pacifica Hybrid fits the bill for this nicely. With 520 miles of total range and an EPA-estimated 32 miles of all electric range, you might be able to go weeks without even thinking about the gas gauge.
The Pacifica Hybrid continues Chrysler's tradition of making luxurious, roomy cabins, making this a great SUV for families of all ages. Keep the kids entertained with optional headrest-mounted rear entertainment systems, complete with wireless capability, built-in data storage for off-grid use, and even an option of a 19-speaker Harmon Kardon premium sound system. There's a reason why it's being lauded as one of the most technologically-advanced SUVs around—you could say it might even impress the royalty of Atlantis.
Be sure to ask your local Chrysler dealer in Birmingham how you could save even more money through federal tax credits.
Jeep Grand Cherokee 4xe as: Cyborg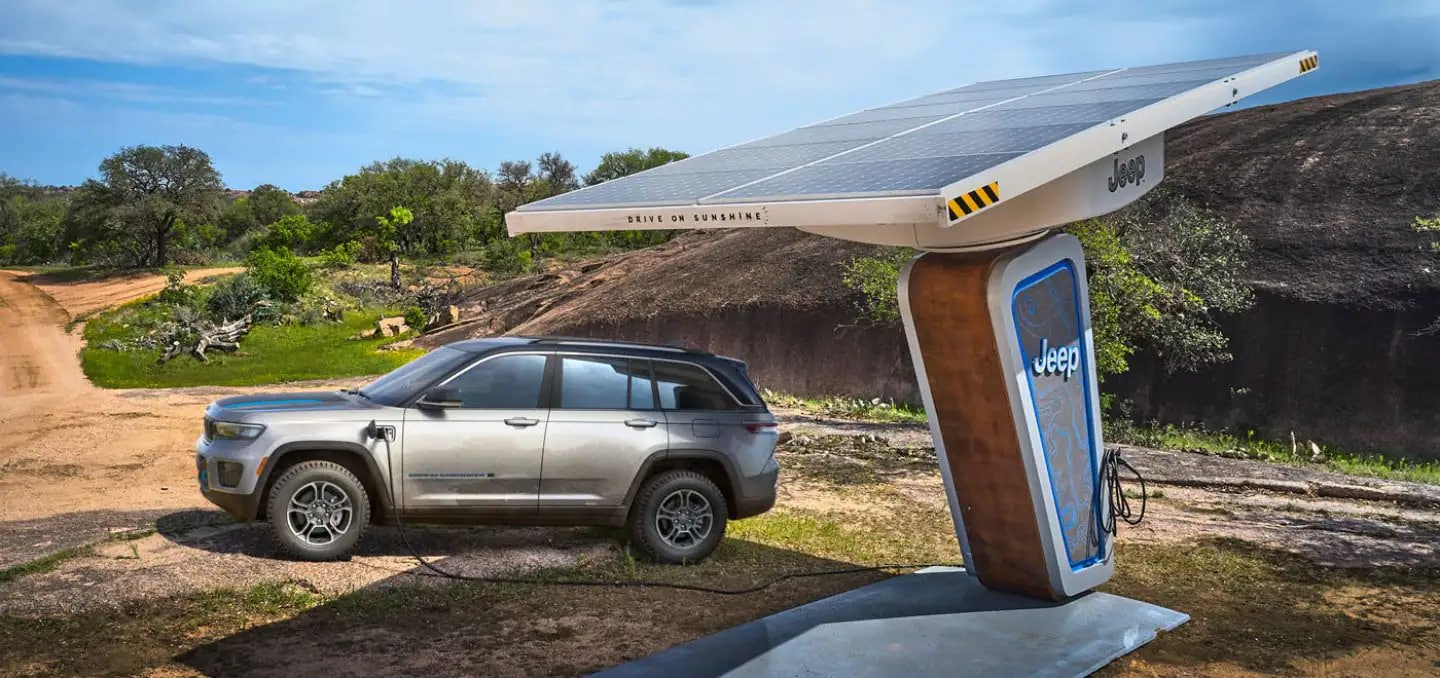 Some of you sticklers out there might be piping up, saying, "Hey, Vic Stone isn't even an original member!"
What can we say? We like Zack Snyder's cut.
For one of the toughest yet technologically advanced heroes on our roster, we couldn't think of anything more fitting than one of the best-rated and safest SUVs, the Grand Cherokee. For three decades now, this Jeep model has dominated the mid-sized SUV segment. These things have it all: the rugged off-road capacity of a classic Wrangler, with the comfort and family-friendly convenience of other SUVs. Considering we're talking about Cyborg here, we've gotta talk about the first ever Jeep Grand Cherokee plug-in hybrid.
Don't let the hybrid badging fool you—this thing is just as capable as any in the past, with 6,000 pounds of towing capacity and 375 horsepower, all while getting an estimated 56 MPGe. The undercarriage is extra-reinforced to protect the battery from flying rocks to deep mud.
Like the Pacifica Hybrid, this will potentially have hefty tax credits available for buyers, so be sure to ask your Birmingham Jeep dealer.
Which Cars Would You Cast in Your Ultimate Superhero Team?
Did we forget any essential Justice League members? Are you a bigger fan of classics like Green Lantern and Martian Manhunter? Let us know in the comments!
While you're at it, be sure to check out some of our super finance specials at Jim Burke Chrysler Dodge Jeep RAM. Stop on by or give us a call at (205) 502-2772.