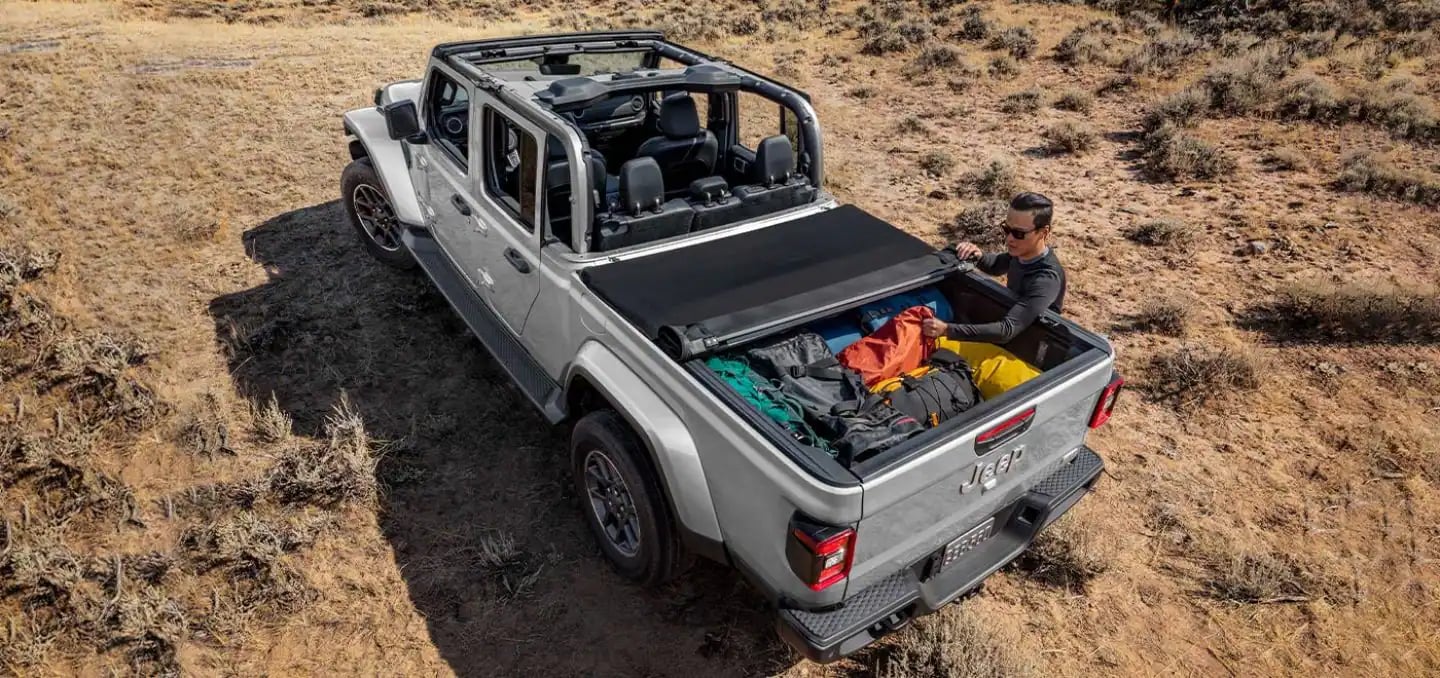 April is fast approaching, and with it, one of our favorite holidays. April 4 (4/4 or 4x4) is when we like to take a day to celebrate one of the most storied and trusted brands in the history of automaking. Of course, that's Jeep.
With spring in the air and warmer weather fast approaching, it's the perfect time of year to show your Jeep some love. The selection of camping and overlanding accessories for Jeeps has never been better, and because of this, the potential for epic adventures is at an all-time high. And, hey, those tax checks rolling in don't hurt either.
We want to talk about some of these killer parts and accessories, but first, let's get this out of the way: sourcing Jeep parts can quickly become an expensive hobby. Jeeps are for everyone, and there's no one right way to build yours out—it's all about just getting out there and having fun, at the end of the day, right? So, we'll try to include a good amount of stuff that isn't too pricey, but some of the higher-end gear is just too cool not to geek out about.
Let's dive in.
Roof Racks
For all the good things we can say about the four-door Wrangler, let's face it: they just ain't that roomy. Yeah, you can get your Jeep to camp spots that the average RV-er can only dream about, but, what do you do when you get there? Did you pack enough supplies to stay a few days? This becomes especially important for Jeep fans with families, who can't necessarily use the seats for additional storage. It may be the best off-road SUV, but it's not exactly spacious.
This is where a roof rack, or roof tray, comes in. Not only does it look totally awesome, but it instantly shoots your space-management game into the stratosphere. One brand we really love is Rhino-Rack, which, when equipped with their internally-mounted Backbone system, enables you to carry almost 800 pounds of cargo. This is an almost-essential addition for certain activities like kayaking, and it even allows you to mount a portable tent atop the vehicle. Speaking of…
Rooftop Tents
This seems like an odd concept to some folks. "It takes me and my wife an hour and a half to set my tent up on the ground!" we hear you say. "You want me to set one up on
top
of a Jeep?!"
Well, no. These tents are designed to mount firmly to the aforementioned roof rack (which must be installed before a tent can be) and they are, generally speaking, fully collapsible, often taking only just minutes to go from totally flush with your roof, to popped-out and ready to sleep in.
This is sort of a divisive product in the camping and overlanding world. There are purists out there who turn their nose up at them, preferring the old way instead—which is fine. There are also plenty of frugal campers out there who wouldn't mind having one, but don't want to put up the dough. Then, there are the people who absolutely swear by them.
The benefits include quicker set-up and break-down times, safety from wildlife, and the versatility to camp comfortably on any terrain. One we've been particularly impressed with is Freespirit's High Country 80" model, which has a durable, low-profile design, and sleeps four full-sized adults.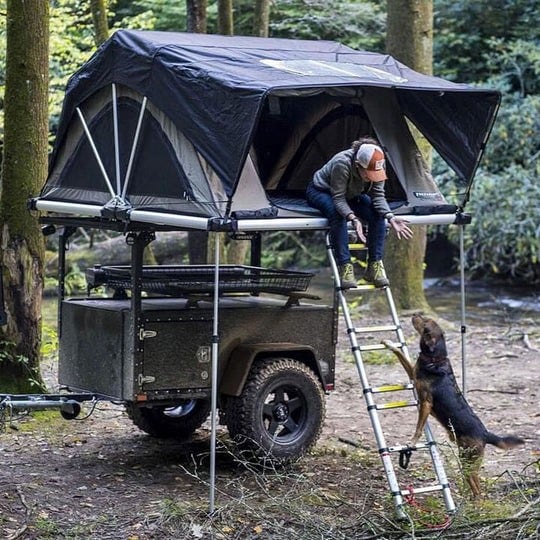 Water and Fuel Storage
Okay, okay, we promised we'd stick to some of the more sensible accessories, too.
Obviously, water and fuel are kind of important. When you're camping—especially if you're in the proper wilderness—they are absolutely vital, and running out is not an option.
This, as with everything, is something you just have to figure out based on your needs. Not everybody is going to need a $300 fresh water tank mounted to their fender like this one from Cliffride. If it's just you and a friend for a weekend at Oak Mountain, you'll probably be just fine with a 5-gallon Jerry can of gas and a 24-pack of bottled water from the store. One that we think is really unique and cool is RotopaX, which is a modular system for both fuel and water storage that mounts to any flat exterior surface, and doesn't totally break the bank.
Camp Stove
You can only live off granola and cranberries for so long. We love hot dogs roasted over an open fire as much as anyone, but if you spend enough time out in the woods, you're eventually going to want to up your food game. This is where portable stoves come in.
These run off propane, and generally consist of one or two metal convection burners. They come in all shapes and sizes, and no two are made equal, so, once again, what you buy is largely up to personal preference. You could opt for a super compact foldable one-burner model meant for hiking and backpacking if you're really trying to save on space, but having a two-burner stove can be super nice if you're cooking multiple dishes.
We have a soft spot for the Coleman Classic two-burner because, frankly, it's pretty hard to find a new stove that's as reliable and durable for only 99 bucks. Now, you can grill up a stir-fry, make some chicken, or even heat up a pot of coffee.
Tables and Chairs
You made yourself a nice meal, only to realize, now you have to eat it on the ground. Great.
Pretty much everyone is aware of the existence of foldable tables and chairs, but the classic folding chairs and tables you see at a little league game or a VFW hall don't always make the best use of your limited space, unless you want to haul a trailer.
For pretty much the same price as a folding table from Wal-Mart, you could grab this one from Lifetime, which folds into a 2-foot by 2-foot square and weighs less than 20 pounds.
Folding chairs are less of a priority, because your average folding chair from any big-box store actually doesn't take up much space. But, if you want to go the extra mile, for just a little more cash, REI's Camp Boss chair is super comfortable, and folds up smaller than a cinderblock.
Another slick accessory that's well-worth investing in is a tailgate table, which is exactly what it sounds like: a table that folds out of your tailgate when it's open. You could spend a few hundred bucks on one of these, but Rough Country makes a sturdy one you can buy for less than a hundred bucks.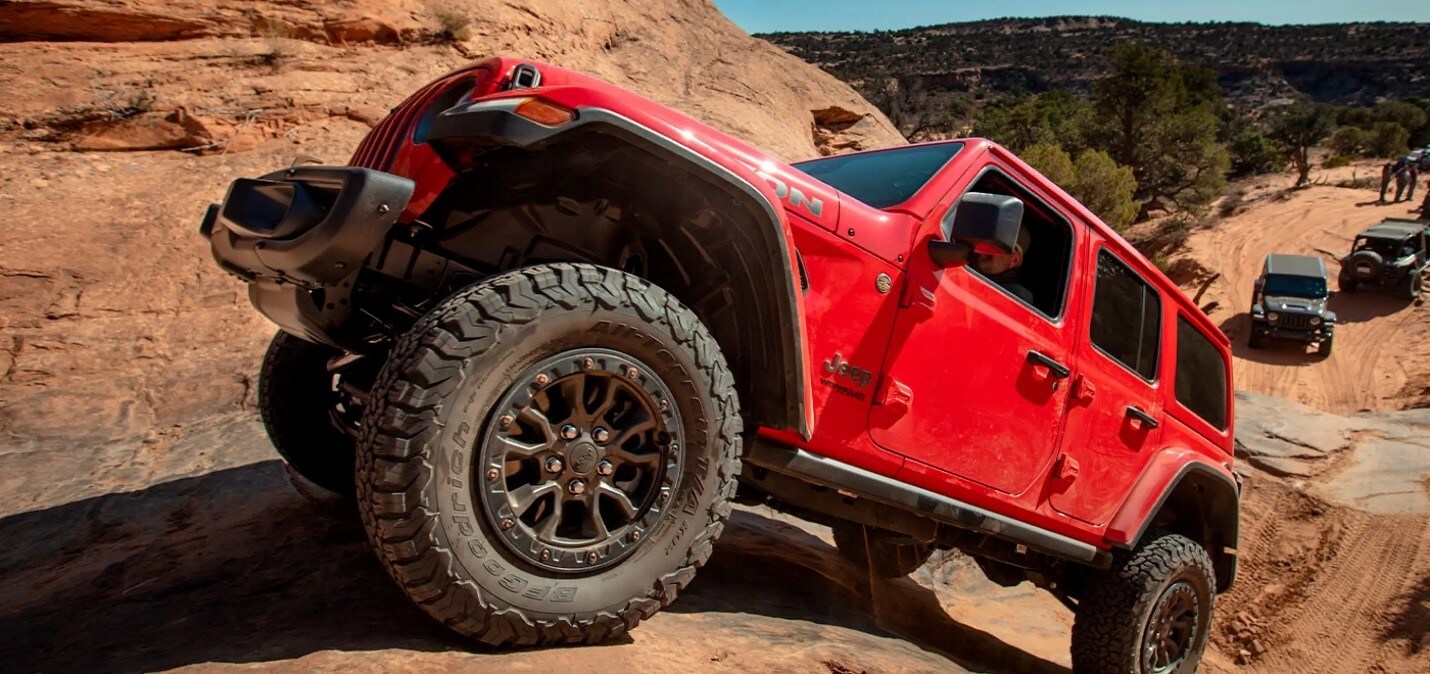 Trash Storage
Leave no trace is the unofficial code of the camping world. After all, we camp to get away from all the trash in the city, right?
A great investment for all of you nature-lovers out there is a Trasharoo. This external bag straps securely to the spare tire and provides more than enough room for whatever trash you accumulate, plus it's made out of thick nylon and is closable, so you can dispose of food without worrying about attracting critters.
Coolers and Refrigerators
All this talk of food, it begs the question: where are you keeping it all? A normal chest cooler works short-term, but unless you're close enough to civilization and don't mind making ice runs twice a day, there's no practical way to keep perishable food. Or is there?
If you don't mind sizing down a little bit from your regular cooler, there are coolers out there that retain ice for 4 to 5 days in the right conditions, like the 70-Quart Xtreme from Coleman. With a couple of these bad boys, plus a camp stove, you could have cold drinks and hot meals for the better part of a week in the wilderness.
The next step up would be a battery-powered refrigerator, which works much more like the fridge in your house, meaning it will keep your stuff cold indefinitely. These are more common than you might think, because they're excellent for extended trips, especially if you're well off the beaten path. Many campers, though, are understandably intimidated to have a fridge drawing on their Jeep's battery for days on end.
Most fridges intended for camping, like this one from Aspenora, have built-in battery protection mechanisms, as well as great insulation so users can turn them off at night. Still, some folks go the extra mile and have a second dedicated battery with inverter installed, just for that extra peace of mind.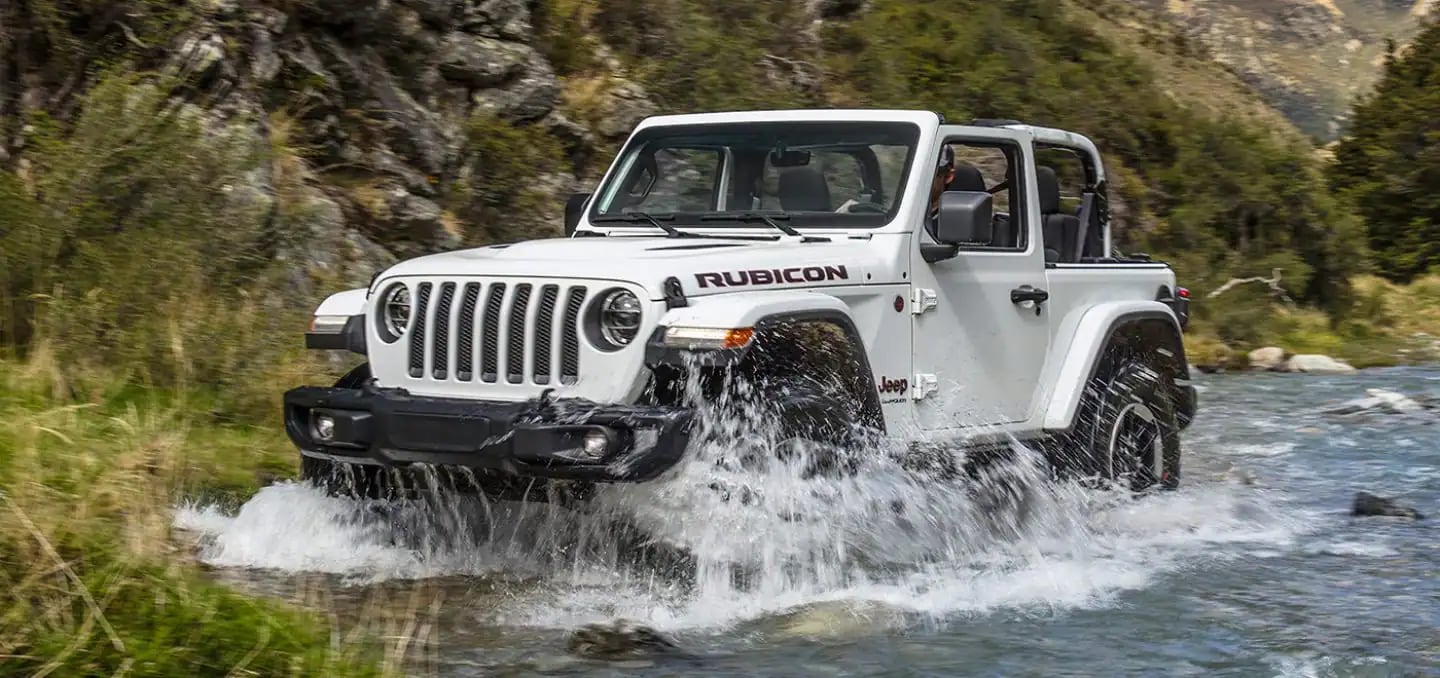 Adventure Awaits
If you need any more proof that you can camp out of a Jeep, or that Jeep is the best overlanding vehicle, check out this absolute madman who lived out of his Wrangler for almost three years in Africa. We could go on and on about all the gear to enhance your Jeep Wrangler or Gladiator. If you don't have one yet, don't worry, because it's never too late to join the party. In fact, there's still time to jump in on our 2021 and 2022 Wrangler specials here in Birmingham—at Jim Burke, where the sale never ends!